Bigg Boss 13: Rashami Desai to get into an argument with Shehnaaz Gill
Rashami Desai tells Shehnaaz Gill to not create more problems between the ex-couple Vishal Aditya Singh and Madhurima Tuli.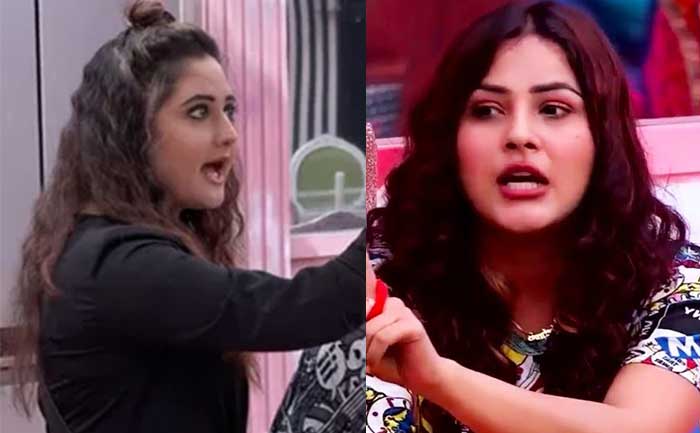 Yesterday's episode of Bigg Boss 13 was like a roller-coaster ride, filled with various emotions. As we know the nasty fight between the ex-couple Madhurima Tuli and Vishal Aditya Singh. Today once again Rashami Desai will get into an argument with Shehnaaz Gill.
The conflict began when Rashami and Madhurima asked Vishal to make some tea. However, he denied and said that he will make tea only for Rashami. To which, Madhurima began teasing Vishal by calling him 'Behenji'.
Later, Vishal asked Madhurima to stop taunting him but she did not listen which resulted in Vishal throwing water on her and she did the same. Both the contestants were asked to stop by Bigg Boss. The condition worsens when Madhurima hits Vishal repeatedly with a frying pan. Rashami and Arti intervened and tried to stop the fight.
Here's the video:
Further, Shehnaaz passes a judgment in between for which she is schooled by Vishal, Arti, and Rashami. Rashami tells Madhurima to not respond to Shehnaaz's words as she is doing everything on purpose and trying to create issues between the duo. To which, Shehnaaz says that Rashami is no less as the latter had also spilled tea at Sidharth.
In the upcoming episode, we will see Gill and Desai getting into an exchange of words once again over her accusations yesterday. She will later tell Arti Singh that, "Yaha koi bhi kuch bhi bol kar chale jaata hai".
What are your opinions on Shehnaaz and Rashami's today's argument? Let us know in the comment section below.
ALSO READ: Bigg Boss 13: Twitterati Reacts To Madhurima Tuli And Vishal Aditya Singh's Awful Fight