Rashmika Mandanna Admits She is a Big Fan Of BTS
Rashmika Mandanna Reveals She is a Big Fan Of BTS ; Shares Her Favourite K-pop Playlist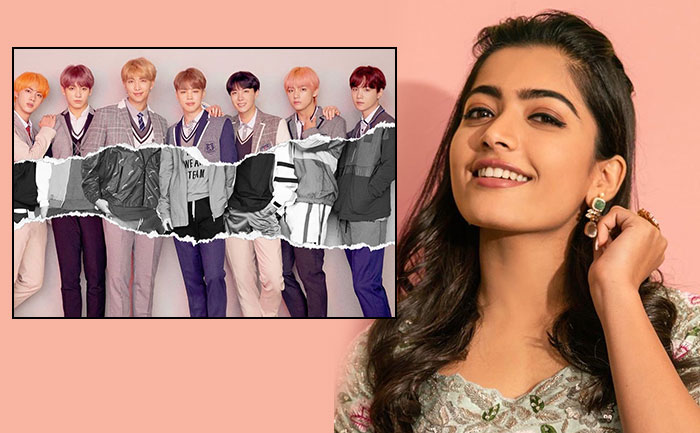 South Korean pop sensation BTS has a humongous fan following across the globe. The ARMY' just cannot have enough of their favourite pop sensations. You must have heard that even celebrities in Hollywood love the albums released by the Bangtan boys. Yes, after Hollywood stars such as John Cena, Tyra Banks, and Emma Stone. WE now have South beauty Rashmika Mandanna too confessing the same.
Telugu actress Rashmika Mandanna on Monday confessed in a virtual chat with her fans that she is a big fan of the K-Pop Group BTS.
In the virtual live interaction with fans on Twitter, Mandanna was asked if she was a BTS fan. The actress responded that she indeed is. The answer rejoiced Indian BTS Army who then followed up a series of questions regarding the seven-member band.
Here's me answering all your questions from yesterday and a lot more, before the match begins🐒#RushHour https://t.co/673r0RpAAg

— Rashmika Mandanna (@iamRashmika) September 21, 2020
Here are some of the questions Rashmika has responded to on the Twitter chat:
Are you a BTS fan? "I am a BTS fan, a big one. I think I like their duality that how they are kids off the stage but transform into something else on the stage. I love that about them. It shows how professional they are. They are amazing."
Favourite BTS song?I have a couple of them. Dynamite is one of them, of course. I like Boy With Luv. I also like On. The choreography on the song is mental. I love their dance on it.
The Dear Comrade actress admitted that watching BTS videos acts as a stress buster for her.
Also Read: THIS Tamil Superstar is Rashmika Mandanna's Childhood Crush