Ratan Tata Inaugurates New Building of Naval Tata Hockey Academy
Ratan Tata Inaugurates New Building of Naval Tata Hockey Academy in Jamshedpur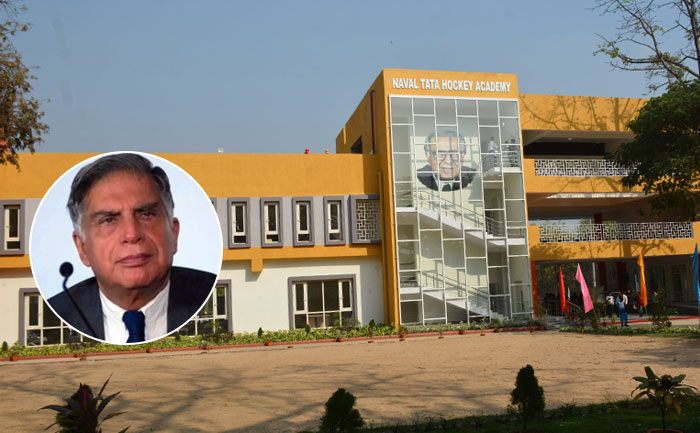 Tata Sons emeritus chairman Ratan N Tata is presently in Jamshedpur. He is attending the Founders Day celebrations along with chairman Natarajan Chandrasekaran. The duo jointly inaugurated the new building of Naval Tata Hockey Academy.
The foundation stone was laid down by Ratan Tata in the presence of N Chandrasekaran, Chairman, Tata Sons. Also T V Narendran, CEO & Managing Director, Tata Steel on March 2, 2018.
The two-storey building has a hostel for 52 cadets (boys), also rooms for 9 coaches. Also a gymnasium, a teaching room, a Hall of Fame and an office. It has a dining and kitchen area, infirmary, massage room and a board room. There is also a viewing balcony for 20 people. The first two phases are completed. Next on the itinerary is accommodation for 52 girl cadets. A practice field will also be added as part of the third phase.
NTHA Jamshedpur has been set-up through a joint collaboration between Tata Steel, Tata Trusts. Also Indian Steel & Wire Products (ISWP), that is a subsidiary of Tata Steel. They are planning to professionalize grassroots hockey in the tribal belts of Jharkhand and Odisha.
Ratan Tata also wished the employees of Tata Group:
Ratan Tata wished the employees of Tata Group and companies on Founders Day and tweeted,
My best wishes to all the Tata group companies, the employees & their families on the birth anniversary of our founder, Mr. Jamsetji Tata, who has inspired us with his kindness over the years.

This founder's day has special emotions for me, reminding me of my mentor Mr. JRD Tata pic.twitter.com/GUZCqj9ESk

— Ratan N. Tata (@RNTata2000) March 3, 2021
Here is how The Steel City is paying tribute to the Founder:
Jamshedpur(The Steel City) will pay tributes to the founder Jamsteji Nusserwanji Tata on his 182nd birth anniversary. The theme this year is 'Agile today for a Sustainable Tomorrow'. The company has illuminated 32 roundabouts and 13 heritage buildings as part of the celebration.
Some Stunning pictures of Jubilee Park after Lighting.Homage To The Founder ❤️❤️ .. #Jamshedpur@RNTata2000 @Jamshedpur_City @KunalSarangi @IAMSTiwary pic.twitter.com/dMDZ9vee1T

— Jaydeep Aich 🇮🇳 (@Jaydeep_Aich) March 3, 2021
The Founder`s Day celebrations at Jamshedpur Steel Works will be live-streamed on March 3 from 8 am onwards. it is for employees as well as for a select group of Jamshedpur citizens.
Also Read: Air India: Will Ratan Tata Take Control Of National Carrier Early Next Year?