Julen Lopetegui plays down deadline day move for Real Madrid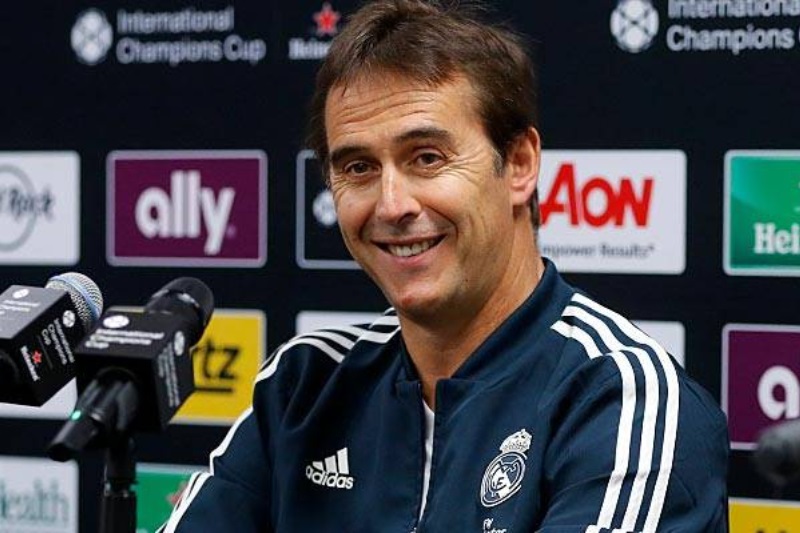 Real Madrid coach Julen Lopetegui said that he has no expectations from his club to make any deadline day move ahead of the transfer window which shuts down on Friday.
Real Madrid, who won the Champions League for the third time in a row have had a relatively quiet window after they sold the talismanic Cristiano Ronaldo to Juventus.
Despite a number of reports linking them to names like Eden Hazard and Neymar. Recently, the Spanish giants signed forward Mariano.
Also Read: Jose Mourinho insists he is one of greatest despite poor start to the Premier League
While addressing the media, Lopetegui, as quoted by The Indian Express, "The squad is complete, and we're happy with the players we've got, that's all that matters."
"With Mariano's arrival, it's all done and dusted. There won't be any last minute moves and we're happy with that," he added.
The early closing down of the transfer window for the English Premier League is something that Lopetegui would want to happen in Spain as well.
"It's my belief that the window should close earlier so we can focus on reality, on what we have to do — it wouldn't be a bad thing — but it's not the case at the moment," said the Spaniard.
European Champions Real Madrid dominated the UEFA awards on Thursday with club captain Sergio Ramos winning the best defender award, stopper Keylor Navas winning the best goalkeeper award and midfielder Luka Modric walking away with the player of the season award.
Ronaldo, a former Real Madrid player won the best forward award.
The former La Liga champions would host Leganes on Saturday.
"We'll see tomorrow who starts, but I've got maximum confidence in all my goalkeepers," said the gaffer.
"Only one can play but that doesn't mean I don't believe in the other. "We're relaxed about it and the fact is we have good options in that position," he added further.