Richa Chadha-Ali Fazal bond over video call amid the Coronavirus crisis
Richa Chadha and Ali Fazal have shared their videos from their video calling session and we're absolutely loving their romantic video call.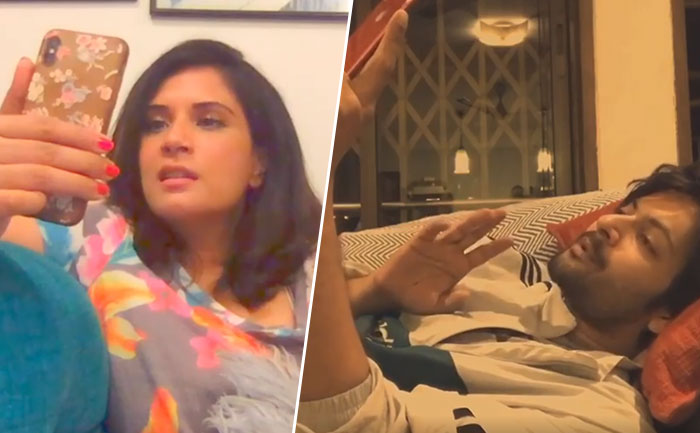 As everyone has been urged to remain isolated due to the coronavirus scare. Just like us, the celebrities have also been self-quarantined and in the times of a lockdown, everybody usually misses their loved ones who are far-far away.
At this time of crisis, when meeting near and dear ones have become a distant reality, lovebirds Richa Chadha and Ali Fazal are giving company to each other virtually. The duo shared their videos on Instagram, in which we can them as they spend time away from each other in self-isolation.
Richa Chadha captioned the video, "Be my quarantine! ❤️ @alifazal9. Self-isolation and social distancing is a good practice for this time… और कोई option नहीं है !
if not for yourself, do it for the people you love ! Especially 👵🏽👴🏼💕❤️🌍🍃 the planet needs for us to pause ! @amyradastur93 and @sapnapabbi_sappers did you promise @alifazal9 food ?"
Whereas, Ali Fazal wrote, "Social Curfew. Error 404
So here's me recording our little vaartalaap and a few do's and donts such as the wonderful fashion faux pas i am displaying on my couch!! But then.. main gharpe hoon.. and i got zinc!! Hehe. God. @therichachadha had some very funny insights and so this is the other end of the call. Have fun. #chalocurecorona #socialdistancing"
In the video, we can see Richa telling her beau that she misses him, "It feels like I haven't seen you in forever." He replies, "me too". She later says, "I miss you but I guess it will be a few days before we see each other" and bids him goodbye with some flying kisses.
Recently, it was reported that due to the coronavirus pandemic Ali Fazal-Richa Chadha's summer wedding has been postponed. Earlier, they supposed to tie the knot in April in Mumbai, but, have decided to push their wedding to October.