RSS: Applications to join seen rise after Pranab speech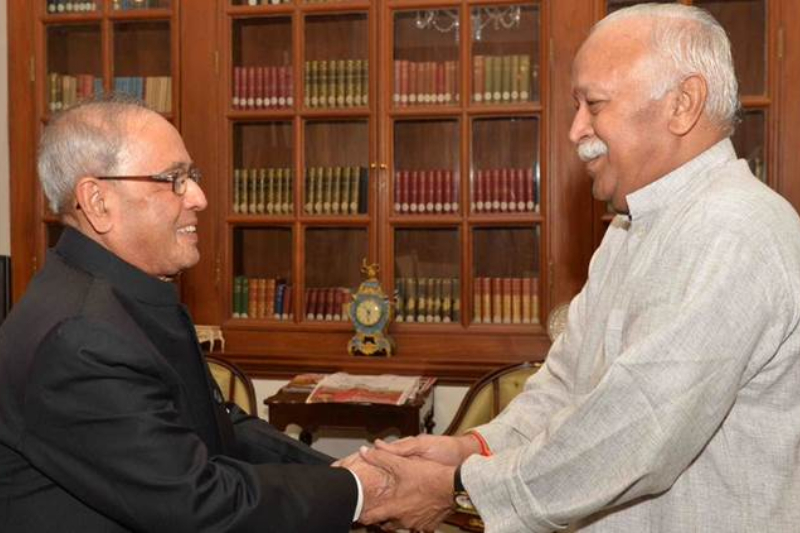 The day former President Pranab Mukherjee addressed the graduating swayamsevaks in Nagpur on June 7 there was boom in the number of applications for joining RSS. In gratitude of it's growth Mukherjeee was sent a letter for his visit and the speech without being affected by "opposition from his own people".
The letter from Sangh saha sarkaryavah Manmohan Vaidya praised Mukherjee's opinion about "one India" and "Indian culture". The letter was sent on Monday, 25th June 2018, to the former president at his residence.
It was seen that Vaidya, who spoke to RSS karyakartas in Bengal before he sent the letter saying he has wrote the programme was telecast across the country after some people started opposing his visit. Not just senior Congress functionaries but Mukherjee's daughter Sharmistha, too, opposed his visit to the event at the RSS headquarters. "The speech will be forgotten, visuals will remain and those will be circulated with fake statements," she had tweeted.
Hope @CitiznMukherjee now realises from todays' incident, how BJP dirty tricks dept operates. Even RSS wouldn't believe that u r going 2 endorse its views in ur speech. But the speech will be forgotten, visuals will remain & those will be circulated with fake statements. 1/2

— Sharmistha Mukherjee (@Sharmistha_GK) June 6, 2018
On Monday when the letter news was out Sharmistha, nevertheless, refused to comment on anything to her father. Where as Vaidya was witnessed falling short of words to appreciate Mukherjee's simplicity in gesture, when he stood up and introduced himself before his speech.
"His simplicity touched everyone," he wrote. Throughout the letter, Vaidya addressed Mukherjee as 'Pranabbabu', adding that Mukherjee and Mohan Bhagwat have similar outlook. At the end, he also mentioned the squirt in to people's interest in joining the Sangh.
An RSS member from Bengal said that "On an average, we had 378 applications per day between June 1-6 on the Sangh's website. But on June 7, the number shot up to 1,779 and the largest chunk was from Bengal."