Rupee at 72.67 per dollar; petrol, diesel prices skyrocket; India reels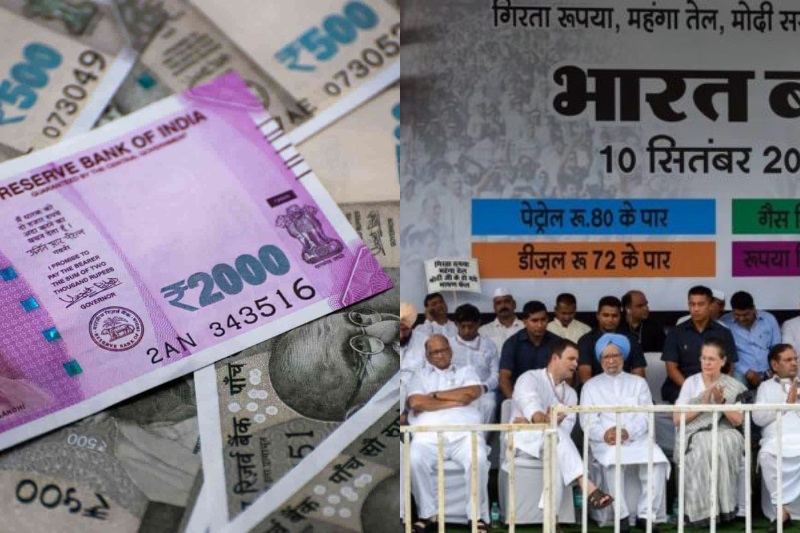 On Monday morning, the rupee nose dived to hit a record low of Rs 72.48 against the might US dollar. Thus, falling 75 paise. The major causes behind the weakening rupee is the rising crude oil prices in the international markets, widened current account deficit and falling international emerging economies.
In a similar fashion, the price of petrol and diesel are working in an inversely proportionate manner against the dollar. On Monday morning the petrol and diesel prices reached a record high of Rs 89.97 and Rs 77.92 respectively, in Maharashtra. Thus, opening a political agitation in country. Taking advantage of this situation, Congress party has staged a 'rail-roko' agitation in in Mumbai as part of the party-sponsored nationwide shutdown to protest rising fuel prices.
The anti-fuel price hike agitation got better of all the political parties except the ruling BJP and Shiv Sena parties.
Mumbai Congress President Sanjay Nirupam and Maharashtra Congress President Ashok Chavan led hundreds and thousands of activists to stage a cacophony protest outside the Andheri station bus depot. Later on they started shouting anti-goernment slogans and also got down on the railway tracks with the objective of blocking it.
By the end of the previous week, the rupee paused at a slight high of 71.73 against the dollar but the rolled down again by today morning.
The domestic markets witnessed hyper volatality and traded between 72.07 and hit all-time low of 72.48 during morning deals. Resulting in further widening India's currenta account deficit.
In the mean time, the 30-share BSE Sensex traded lower by 238.01 points, or 0.62 per cent, at 38,151.81 at 1055 hrs.
Political parties seems to leave no stones unturned to make their presence felt in the country. Even in such dire economic situation, we just managed to politicise the scene to make the most till this economic crisis lasts, which would eventually acts as a catalyst in the upcoming 2019 Parliamentary elections. India reels!
Also read: Stock market update: Sensex falls 150 points, Niftty below 11550