Bharat Bandh: Youth tired of Narendra Modi's 'fake' speeches, says Rahul Gandhi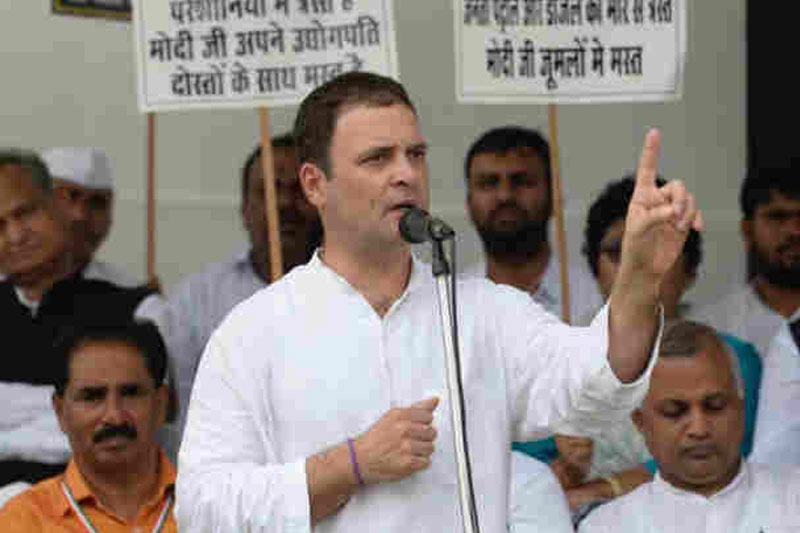 Attacking the Bharatiya Janata Party-led Narendra Modi government for their tall claims made before the 2014 Lok Sabha elections, Congress president Rahul Gandhi said on Monday that youth in the country are tired of BJP and its 'fake' promises. He pointed out the rupee fall, price rise in the cooking gas and petrol prices are concerning factors.
Launching a scathing attack at the Prime Minister from Delhi's Ramlila Grounds, Rahul said on Monday, "Hatred is being spread… One Indian is fighting the other. The rupee is lowest in 70 years. Fuel prices have hit the roof. The price of cooking gas has become 800 per unit. The country is being divided… the country is tired. The youth of the country are tired."
Rahul took a jibe at Modi stating, "Narendra Modi used to roam the country and say, the prices of fuel are rising. Today he is the Prime Minister and says nothing." He pointed out that Modi in his speeches claims that achievements of the BJP government in four years far exceed that of the Congress in 70 years, but all in negative directions.
Rahul said, "The Rupee has never has been weaker in the 70 years of Independence. Modiji said that what didn't happen in 70 years, we will do in 4 years. Wherever he goes, he just goes to sow division." He was of the opinion that PM does not know the world he resides in. He said, "पता नहीं कौन सी दुनिया में हैं भाषण देते रहते हैं… देश उनको देखकर तंग आ गया है. (Don't know in which world PM resides in and gives his speeches. People are tired of him)."
Rupee hit a record low on Monday of 72.67 against the US dollar and petrol prices reached 89.97 in Maharashtra's Parbhani – the highest in India. The Congress in their protest against the rising fuel prices have got the support of 21 regional parties all across the country. The effect of the bandh could be observed in Karnataka, Maharashtra, Kerala and Bihar, while other states too have witnessed the Bandh effects.
ALSO READ: Bharat Bandh: BJP justifies rising fuel prices, blames it on oil producers