Ryan, eight-year-old YouTuber makes Rs 150 crore in one year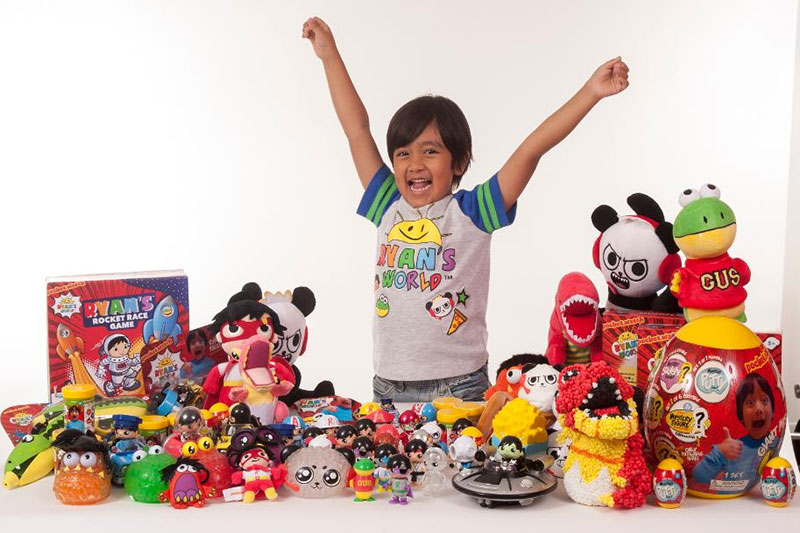 Ryan, an eight-year-old American boy who merely reviews toys on YouTube earned $22 million in one year. Ryan topped a list of highest-earning YouTube stars overtaking United Kingdom's Daniel Middleton.
Ryan runs a YouTube channel named RyanToysReview, made approximately Rs 150 crore between June 2017 and June 2018. You must have seen numbers of people reviewing tech-gadgets but Ryan made all this money by reviewing toys. Ryan's YouTube channel has more than 17 million subscribers and around 26 bn views. His YouTube channel was started by his parents in 2015.
Jake Paul, the online sensation has been named the second on Forbes's list who is reported to having earned £16.8m. His raps and jokes have been viewed over 3.5bn times in the last one year.
The UK's sports entertainment group Dude Perfect made £15.7m and Daniel Middleton, who specialises in the popular Minecraft game, was ranked fourth with £14.5m earning. The British gamer has been playing the building game on camera for several years and also has a line of merchandise.
The top five was rounded out by the makeup artist Jeffree Star, who made £14.1m.
It is to be noted that Forbes magazine measured pre-tax earnings from 1 June 2017 to 1 June 2018, without fees for agents, managers and lawyers being deducted.
According to the Forbes, the vast majority of the money came from ads showing below his videos and adverts than run before his videos start. Ryan reportedly made 96 percent of the revenue from these ads and remaining money came from sponsored posts.
Ryan says  I'm entertaining and I'm funny
When asked why they were so successful by NBC News recently, Ryan said, "Because I'm entertaining and I'm funny."
According to Forbes, due to his young age, 15% of Ryan's earnings are placed in a special account, in which they are protected until he becomes an adult.
Notably, one of Ryan's videos, titled as "Huge Eggs Surprise Toys Challenge" has been viewed over 1.6 billion as of November 2018, making it the 39th most viewed video on YouTube.
The Verge has described the RyanToysReview as "a mash-up of personal vlog and "unboxing" video, a blend of innocent childhood antics and relentless, often overwhelming consumerism."
Ryan made $11 million in 2016-17
In the year 2016-17, According to Forbes, Ryan was the 8th highest paid YouTube entrepreneur who had received $11 million revenue.
In addition, the YouTube star, Ryan has a toy and apparel collection called Ryan's World which is sold exclusively at Walmart. The line is heavily promoted on his YouTube channel and features a variety of action figurines, t-shirts, toys, and many more.
Also read: T-Series on course to become YouTube's most subscribed channel