Sabarimala row: Miscreants attack journalists on way to temple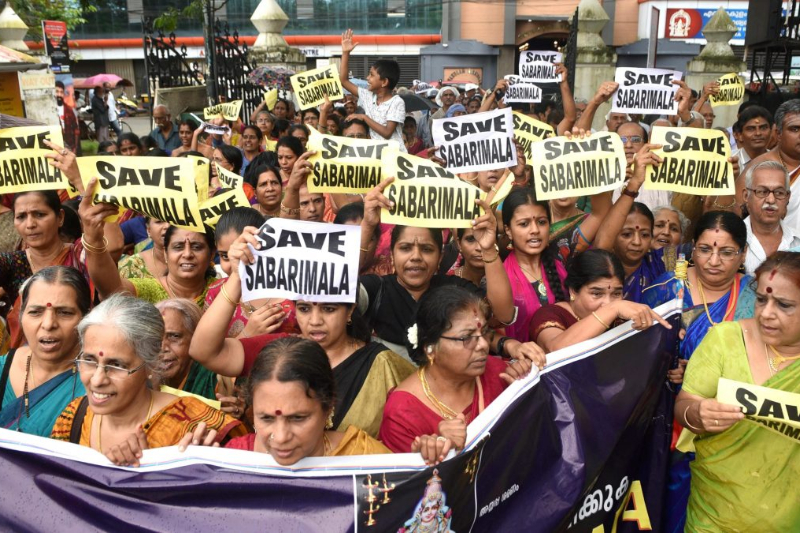 Sabarimala protest took an ugly turn on Wednesday, as protesters attacked women journalists when they had gone to cover it. They have targeted almost four media organisations and vandalised vehicles.
One Republic TV reporter was beaten with sticks, and another The News Minute reporter was kicked on the spine. Beside these reporters, journalists from News18, CNN-IBN and Aaj Tak were also on the target of protesters.
According to the report, when the reporter was travelling on the bus carrying devotees to Sabarimala temple, she was attacked by a mob comprising of 20 people belonging to Karma Samithi. They surrounded the bus and tried to pull the journalist out.
"She was verbally abused and physically attacked. One person in the mob had kicked her on the spine," The News Minute reported.
"She was kicked from behind as angry devotees took her photograph, called her derogatory names and chanted slogans in the name of Ayyappa. A woman also tried to throw a water bottle at Saritha," reported the news website.
The news portal also said the goons who were trying to pass them off as devotees have now surrounded the police station where the journalist was taken by the local police.
We're getting a report that India Today TV crew was attacked by a large mob of around 100 people.https://t.co/B42ZFND9M5

— India Today (@IndiaToday) October 17, 2018
In a tweet, Republic said, "Mob of 100 smash car, attack Republic TV's South India bureau chief Pooja Prasanna". The mob of anti-women Sabarimala protesters had snatched batons from the police and attacked the television crew. Ms Prasanna is safe."
"Visuals of the attack show the mob surrounding the car, shoving their faces into every window and the windshield, shouting loudly, making intimidatory gestures, and then, slamming the car from all sides," Republic's news report read.
WATCH: We were attacked when we were inside a police van. Right now we're being shifted from the location. Stones are being pelted. Several police personnel's lathis were snatched from them: Republic TV's South Bureau Chief Pooja Prasanna who was attacked by a 100-strong mob pic.twitter.com/s798TkHmso

— Republic (@republic) October 17, 2018
Activist Rahul Easwar, who is leading the protests against the Sabarimala verdict, has been detained by the police. Easwar is the grandson of the former high priest of the Sabarimala shrine.
#Kerala:Protesters block and attack a woman journalist's car in Pathanamthitta #SabarimalaTemple pic.twitter.com/7TfRf2YIMi

— ANI (@ANI) October 17, 2018
'No One Should be Allowed to Disturb Our Lord' "This is the holy land of Lord Ayyappa. He is our prince. No one should be allowed to disturb our Lord who protects us from all evil forces," Karthyayani, 54, belonging to the Kurava community was quoted by News 18 as saying.
Also read: Sabarimala: Women devotees reach temple, sent back by protesters