Sabarimala Row: Petitioners warn SC of another 'Ayodhya'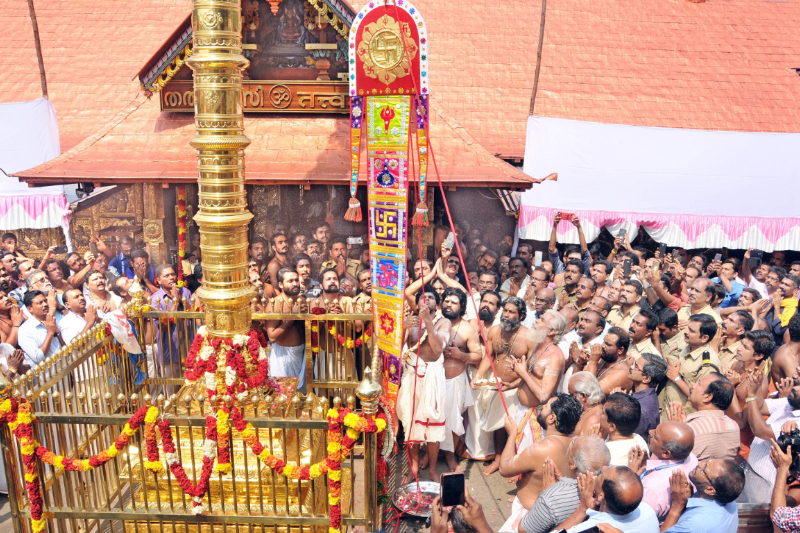 Petitioners in the Sabarimala Row have warned of "another Ayodhya" if there is any interference in the Sabarimala temple's ban on women. To which, chief Justice Dipak Misra said the Kerala temple's custom "must stand the test of constitutional provisions".
The Kshetra Samrakshana Samiti said the five-judge constitution bench should not "tinker with the religious practice of restricting the entry of women between 10 and 50" into the much revered Sabarimala Temple of Lord Ayyappa.
"Any interference with the age-old custom will result in another Ayodhya and will create social tension in Kerala," lawyer Kailasanatha Pillay said, representing the group. Justice Dipak Misra responded: "If you say it is a public temple, then the custom and essential and practice must be integral to the religion; the question is how far the practice of exclusion of certain category of women is valid. Your custom must stand the test of constitutional provisions." Lawyer Sai Deepak, arguing for People of Dharma, told the judges that the public character of an institution does not take away its identity. "Ayyappa devotees themselves form a 'religious denomination' and their rights must be protected," he said, adding that the exclusion of a certain category of women does not mean discrimination. The devotees are expected to follow a 41 day austerity period during which any sexual relations, consumption of non-veg, alcohol is prohibited.
Deepak, also quashed the notions of impurity of menstruation" forming the basis of the religious practice. Menstruation is not regarded as impure, says Deepak, referring to the Kamakhya temple in Assam where the deity Kamakhya is revered as the "bleeding goddess".  However, Justice YS Chandrachud intervened and observed, "It is constitutionally impermissible to exclude a section of women on the basis of their physiological conditions. However essential that practice is, it cannot alter basic constitutional principles. If our Constitution overrides all other aspects, there cannot be exclusion of women from temples."
Parasaran appealed to the Court to respect the traditions and customs of the people. He said the Lord Ayyappa at the Sabarimala temple is a "Naishtika Brahmachari" and devotees who come to offer him worship should appear to be brahmacharis. Hinduism, he said, is a faith of tolerance and not discriminatory.
He argued saying that women in Kerala are well-respected and follow the Matriarchal societal norms, but the fact that they don't enter Sabarimala temple is due to them cherishing their customs and traditions.