Sabarimala row: Pinarayi Vijayan reminds Amit Shah of constitution, law of land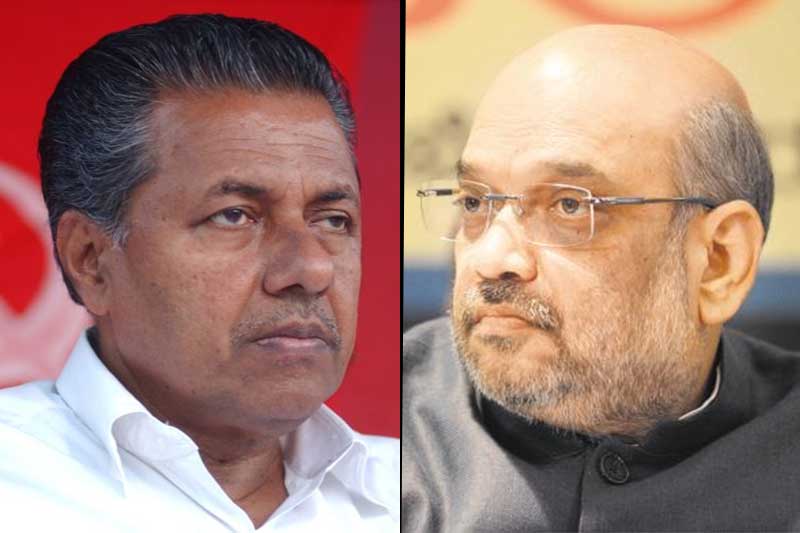 Hours after Bharatiya Janata Party supremo Amit Shah alleged that arrest of BJP workers in Kerala as cruel and attack on religious beliefs of people, Chief Minister Pinarayi Vijayan reminded him of constitution and law of land. Vijayan made it very clear that his government came to power with the support of people, but not at the mercy of BJP.
Addressing media of Saturday, Kerala CM said, as reported by ANI, "Amit Shah's statements (on #Sabarimala issue) in Kannur are against constitution and law of the land. It's a clear intention of their agenda of not to guarantee the fundamental rights. This shows the agenda of the RSS and sangh parivar."
Without mincing his words, the Left leader stated very clear that BJP trying to sabotage the people's mandate will never become successful. Vijayan said, "Amit Shah who threatened to topple our government should remember that this government came to power, not at the mercy of BJP, but the people's mandate. His message is to sabotage the people's mandate."
Earlier in the day, Shah, while inaugurating the party office in Kannur, had said on Sabarimala row, "Today in Kerala a struggle is going on between religious beliefs and state government's cruelty. The Left government in Kerala has misused the Sabarimala issue. They have used it to arrest workers and supporters of the BJP and other political parties. They have jailed thousands of party workers."
Adding more, he had stated, "I warn Kerala's communist chief minister, don't oppress devotees in the name of implementing the Supreme Court judgment. It's a well-planned conspiracy to destroy the sanctity of temples in Kerala by the communists."
It is to be known that atleast 12 women in the 'barred' age group (10-50) tried to trek Sabarimala temple, but could enter due to protests. Altogether, 495 cases have been registered against the protesters. Also, over 2,825 BJP and RSS party workers have been detained.
ALSO READ: Sabarimala row: Amit Shah slams Pinarayi Vijayan; says BJP, RSS workers targeted