Sabarimala row: Two women set to enter shrine; protesters block entry point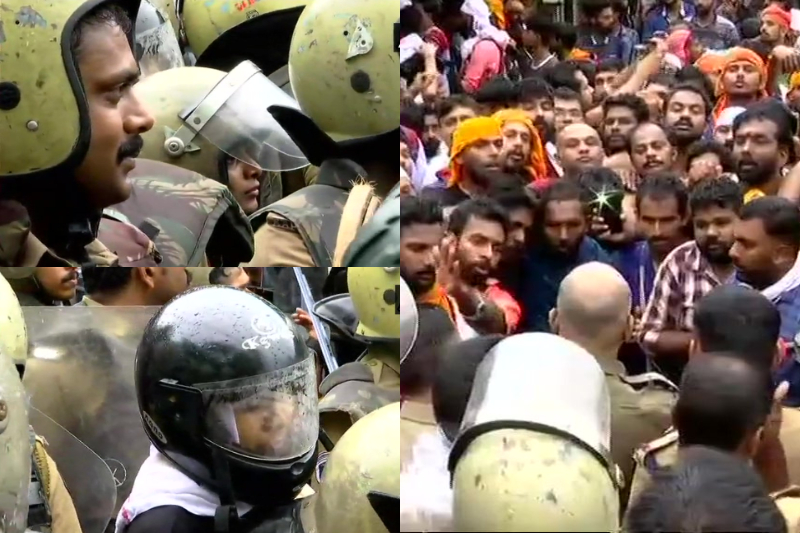 At least 100 policemen were accompanying two women, a journalist and a devotee, towards the Lord Ayyappa temple in Sabarimala on Friday amidst protests.
Kavita, the Hyderabad-based journalist along with the other woman devotee from Kochi were surrounded by 80 policemen while the rest 20 were walking ahead of them, clearing the way. While the journalist is wearing the riot gear, the other woman is wearing a helmet with traditional attire meant for the pilgrimage.
The women are a few hundred metres away from the shrine to create history by being the first two female devotees of menstrual age to pray at the Lord Ayyappa shrine.
Meanwhile, the Sabarimala temple head priest, Kandaru Rajeevaru, dismissed reports that the family planned to close down the Lord Ayyappa temple if women entered it to offer prayers. However, the priest appealed to women belonging to the age group of 10-50 who were restricted as per the centuries-old traditions of the shrine, not to come to Sannidhanam.
"We have never said that the temple will be closed if women of the traditionally barred age group enter there. It is our duty and responsibility to carry out the monthly pujas and other rituals. We will not break the custom," Kandaru Rajeevaru said.
"We respect the verdict of the Supreme Court. But considering the sentiments of devotees and the tradition and rituals of the shrine, I humbly request you (women) not to come to Sabarimala," he added.
On September 28, a five-judge Constitution bench of the Supreme Court, headed by the then Chief Justice Dipak Misra lifted the centuries-old ban on the entry of women of menstrual age into the shrine. However, the judgement led to a massive protest in Kerala.
Also Read: Sabarimala row: Miscreants attack journalists on way to temple