Sachin Pilot asks Yogi Adityanth, Would he campaign for Yoonus Khan?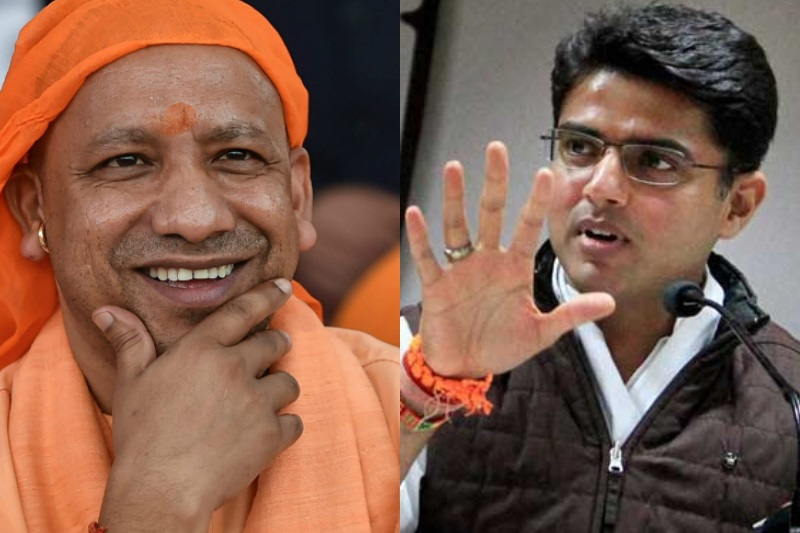 Taking an jibe at Uttar Pradesh Chief Minister Yogi Adityanath, Congress leader Sachin Pilot asked, would Yogi campaign in Tonk for BJP's Muslim candidate Yoonus Khan?
As Yogi Adityanath has been a prominent face for Bharatiya Janata Party (BJP) and went to several states for electoral campaign. Sachin Pilot took a swipe at Uttar Pradesh CM and said, "I will sit back and see whether Yogi Adityanath will come to Tonk to ask for votes for him (Khan) or not."
It is to be noted that Yoonus Khan is the only Muslim candidate fielded by saffron party for the Rajasthan Assembly elections. The BJP could be looking at carving a chunk of Muslim votes in Tonk but Pilot was confident of a Congress victory.
"There is a BJP government at the Centre and in the state. People had hoped for development. But it makes me very sad that for the first time (in the state) farmers had to commit suicide. This is a blot on our society," he said.
Pilot, who is contesting against Yoonus Khan in Tonk, is a President of Rajasthan Congress party and one of the chief ministerial aspirants in the state. There have been reports of in-fighting within Congress – between Pilot and Ashok Gehlot, although both have denied the reports.
Talking to news agency PTI while campaigning in the rural areas of Tonk, Khan said that the decision to field him was based on strategy and equations and not on his religion.
"Don't weigh this as a Hindu-Muslim fight because if you look at it from that perspective, Muslims are lesser in number in comparison to Hindus. This election is not about caste and religion," said Khan, who is widely considered as one of the most powerful ministers in the Vashundhara Raje government.
A win in Tonk could put Pilot on the right path even as Congress maintains it is confident of returning to power in Rajasthan. Meanwhile, BJP is confident of retaining power and bringing several leaders including Adityanath for campaigns in Rajasthan.
Also read: Assembly elections: 'Ab Badlega Rajasthan' says Sachin Pilot via video campaign