Arijit Singh's THESE 7 Sad Heartbreak Songs Will Surely Make You Cry
Check out the list of top 7 sad heartbreak songs of Arijit Singh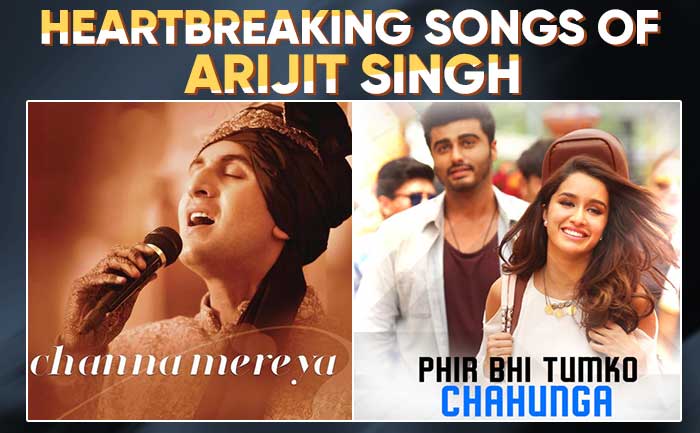 Arijit Singh is undoubtedly one of the best Indian playback singers. Arijit Singh is known for lending his soulful voice to Hindi and Bengali songs but he has sung songs in multiple Indian languages as well. Due to his amazing voice, Arijit Singh is regarded as the most versatile actors of the Indian music industry. Arijit Singh's mostly sings heartbreak, romantic and love songs. Best Neha Kakkar's Hindi Songs
Arijit Singh's music journey started when he took part in the contemporary reality TV show, Fame Gurukul in the year 2005. At the very beginning of his career, Arijit Singh received nominations for the Upcoming Male Vocalist of the Year award at the 2013 Mirchi Music Awards for renditions of "Phir Le Aya Dil" and "Duaa", winning the award for the latter. Arijit Singh Success Story Revealed
Arijit Singh received nationwide recognition and fame with the release of "Tum Hi Ho" and "Chahun Main Ya Naa" in 2013. In 2019, Arijit Singh was declared the most-streamed Indian artist of the year. In this article, we will talk about some of the top 5 sad heartbreak songs of Arijit Singh.
The month of love February has already begun and there are people who will express their feeling for their respective partner but not all of them will be fortunate enough to celebrate Valentine's day. That's why we have curated a list of Arijit Singh's heartbreaking songs to listen to. 
Top 7 Sad Heartbreak Songs of Arijit Singh that Will Make You Cry
1. Channa Mereya
2. Phir Bhi Tumko Chhahunga
3. Muskurana
4. Lambiyaan Si Judaiyaan, Raabta
5. Bekhayali
6. Tum Hi Ho
7. Laal Ishq
We all know how beautiful singer Arijit Singh is? Arijit is a singer who makes songs more beautiful using his magic. When you listen to his songs, it will make you feel what true love is and how it feels to be deceived in a relationship.