The Kapil Sharma Show: Kapil Sharma Gets Schooled By Saif Ali Khan For Flirting With His Wife
Jawaani Jaaneman cast will be gracing Kapil Sharma's show The Kapil Sharma Show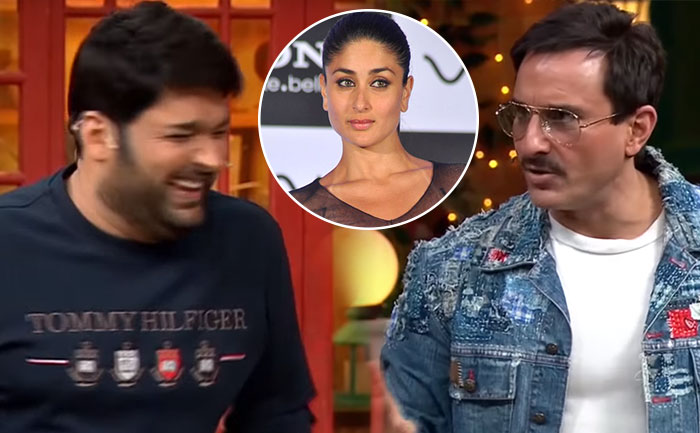 Kapil Sharma's comedy show 'The Kapil Sharma Show' has become one of the biggest platform for celebrities to promote their upcoming films. The next episode of The Kapil Sharma Show will be graced by Jawaani Jaaneman cast including Saif Ali Khan, Tabu, Alaya F, Farida Jalal, Kubra Sait and Chunky Pandey.
Kapil Sharma, who is known for pulling everyone's leg at his show, when asks Saif Ali Khan what does Kareena Kapoor Khan call you, Saif gives a quirky reply and says, "You are married, Now." Later, Saif schools him for flirting with his wife when she appeared at the show last year.
Kapil is known for flirting with everyone who comes at his show and schooling him for his flirty behaviour was something we all expected from Saif. Kapil Sharma's THIS Video Showcases His Yet Another Hidden Talent
In the new promo, Kapil Sharma can be heard saying, "It is nothing like that. I flirt with everyone's wife no matter what." Host Archana and Saif then burst into laughter. Besides Saif, Kapil trolled Tabu and Chunkey Pandey for different things too.
Before you think too much, let us tell you that it was just a part of fun banter. You can watch the latest promo here:
Coming back to movie Jawaani Jaaneman, the story of the film revolves around a man who accepts his age, responsibilities and his journey in life. Speaking about the same, Saif Ali Khan had said, "I think the father is one of the most important people in our lives. A lot of people mess up being a father and create children that need therapy, that need friendship and that need all kinds of things to fix their problems because they are not ready to be responsible fathers. In the film, my character is not ready. He thinks that (having) a family is not cool, and that solo life is the way to go."
Directed by Nitin Kakkar, Jawaani Jaaneman is scheduled to release on February 7.