Akshay Kumar (Akki)'s film should do better than mine: Salman Khan
Salman Khan said that everyone's movie should do a better business at the box office.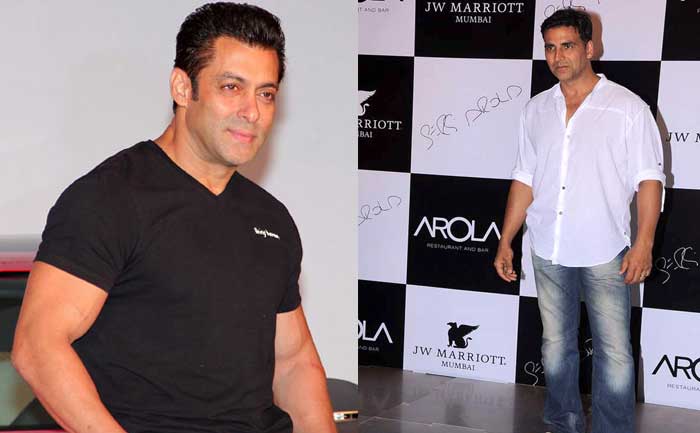 Bollywood superstar Salman Khan — who is basking the success of his latest release Dabangg 3 — has recently spoken up on reports comparing Dabangg 3 with Akshay Kumar's Good Newwz, which his the theaters on Friday (Decemebr 27, 2019). Instead of blaming or cursing his contemporary, Salman Khan said that Akshay Kumar's film should earn more money than Dabangg 3.
Salman went on and said that everyone's movie should make a good business as that is beneficial to the Hindi film industry. When Bhaijaan was asked how would he feel when his contemporary's film opening with a lesser number at the box office. He said, "What? What is so good in that? Akki's (Akshay Kumar) film should do better than that of mine." Happy Birthday Salman Khan: Dabangg 3 Actor Has THESE 10 Most Ridiculous Expensive Things?
"I would have been the happiest if Akki's film could have opened with bigger numbers than that of ours but this is also good. I believe that it is not just about my film or Akki's or of Shah Rukh's film. I say all of our films should get a bigger opening and earn a lot of money because it is good for our film industry. Yes, it is less but it is not a bad opening at all, it is a damn good opening considering the present situation of our country," Salman Khan quoted as saying to news agency, IANS.
Speaking about the collection Dabangg 3 made and thanking his fans, Salman Khan said, "Our film Dabangg 3 was also expected to open to a certain number but it opened less than that but even then I want to thank my fans who are going to the theatre and spending their hard earned money to watch our film. That is why we promise to work hard to give them the worth of their money. I salute all our fans," said Salman after cutting a cake and sharing ut with the media.
"Right now we are happy with the number we have earned (at the box office) in this troubled time in the country," he further added.
Salman said, "When it comes to Akki's film 'Good Newwz,' the report is that it is a good film and people are liking it. I hope this film also becomes one of the big hit films for Akki. He is my friend I know him for a long time and I really wish him well."
Thanking his fans for the constant support, Salman quipped, "Even my film that earns Rs 100 crores is considered 'flop' by the critics! This is like (laughs)."