Galaxy Fold Screen Can Handle 100 Folds Per Day For Five Years – Video
Samsung Galaxy Fold Display Is Strong Enough To Gives Years Of Usage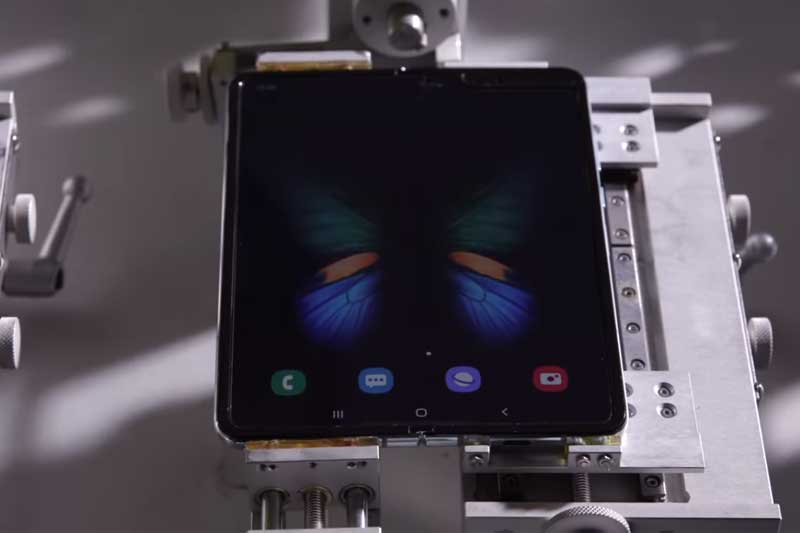 Samsung shared a video to show how strong the Galaxy Fold display is. Featuring proprietary hinges it's a common doubt how well the display can stand the pressure of constant folding and opening. The video showed an extensive folding test, where Samsung claims Galaxy Fold can stand 200,000 folds and unfolds. As per an estimated 100 times per day usage, the device screen can work well for five years.
100 times fold and unfold takes a week to complete, and the test proves Samsung Galaxy Fold is not just a costly phone with an innovative design but a reliable smartphone ready for extensive usage. Foldable screens are a matter of doubt in terms of reliable usage, the test is adequate to placate buyer's thirst of tracing durability features of Fold.
Samsung Galaxy Fold features an overall dual display, one 7.3inch QXGA + AMOLED Dynamic Display and a 4.6inch HD+ Super AMOLED display on the outside. It carries five cameras, dual on the front 10MP+8MP and a triple camera setup on the back 12MP+12MP+16MP. Powered by 7nm 64-bit Octa-Core Processor + 12GB RAM and 512GB storage Galaxy Fold is not just limited to screen features.