Sana Khaan's shocking revelation, says, ex-bf Melvin Louis 'made one small girl pregnant'
Bigg Boss 6 contestant Sana Khaan revealed that ex-boyfriend Melvin Louis got a young girl pregnant. Read to know more.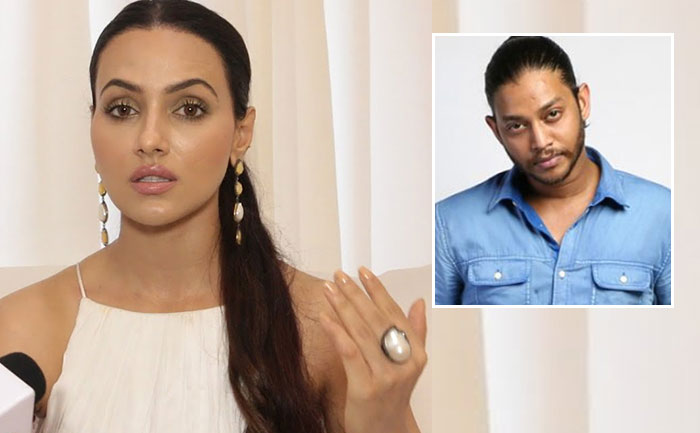 Sana Khaan has been on the news ever since she announced her breakup with her beau and choreographer beau Melvin Louis and also accused him of cheating on her with multiple girls. Yet again, the former Bigg Boss contestant made a shocking revelation on her Instagram story and said that he 'made one small girl pregnant.'
Yesterday (19th February 2020) the actress went live on her Instagram handle interact with people. There, she mentioned that she had already broken up with Melvin in Krabi when he embarrassed her in front of his associates. Later, she also stated that not all, but a few of the girls that star with Melvin in his videos, are the ones that he cheated on her with. Further, she also discussed another girl who takes care of his Bangalore outlet.
'The Jai Ho' actress got so emotional that she had to end the live stream and took to her Instagram story and wrote, "Sorry had to log out cos I couldn't stop getting emotional. And tears are not for him but the pain n humiliation I went through for someone not worth it. Thinking of those girls make it even worst. Thank you all for your love n support. Their boyfriends cheated on them n left now I knw why."
Later on, she also revealed how he got a young girl pregnant, she said, "It's heartbreaking to knw he made one small girl pregnant.Took money from girls,flirted with students is tht how a teacher should be? Scares me! And the list of all these so called actors my foot. How proud their parents must be now. Characterless people Thtswhy they all strugglers. Allah will teach u all a lesson tht I will teach u all a lesson tht I will watch n I knw it"
Here are Sana Khaan's Instagram stories: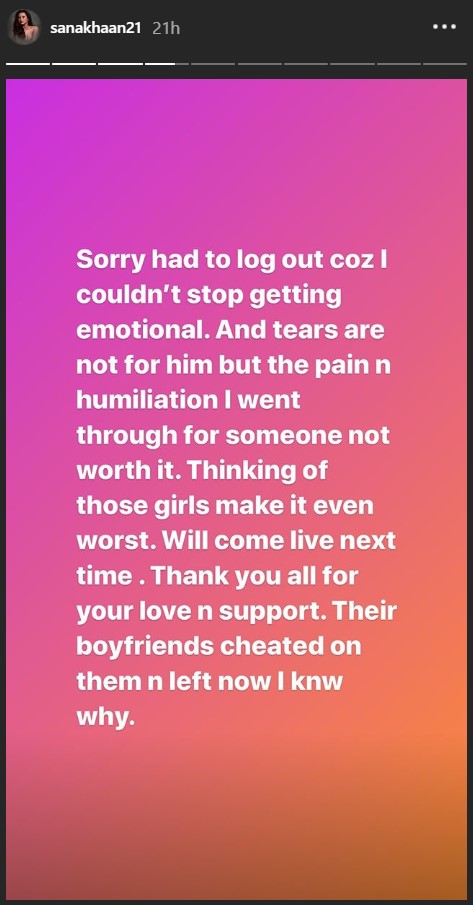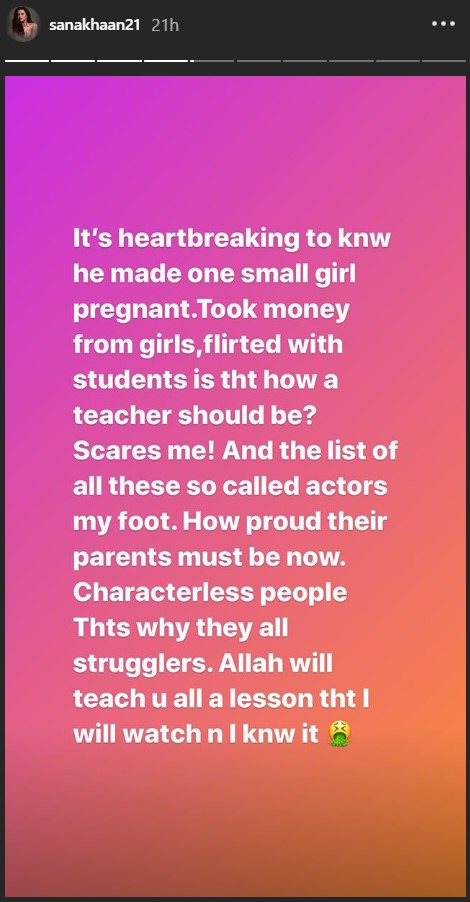 On the work front, Sana gained popularity as a contestant in 'Bigg Boss 6' and on the Bollywood front, she appeared in films like 'Jai Ho', 'Wajah Tum Ho', and 'Toilet: Ek Prem Katha' and will next be seen in 'Tom, Dick and Harry 2'.