Sanathan Sanstha Ban: Maharashtra CM Fadnavis awaits nod from Centre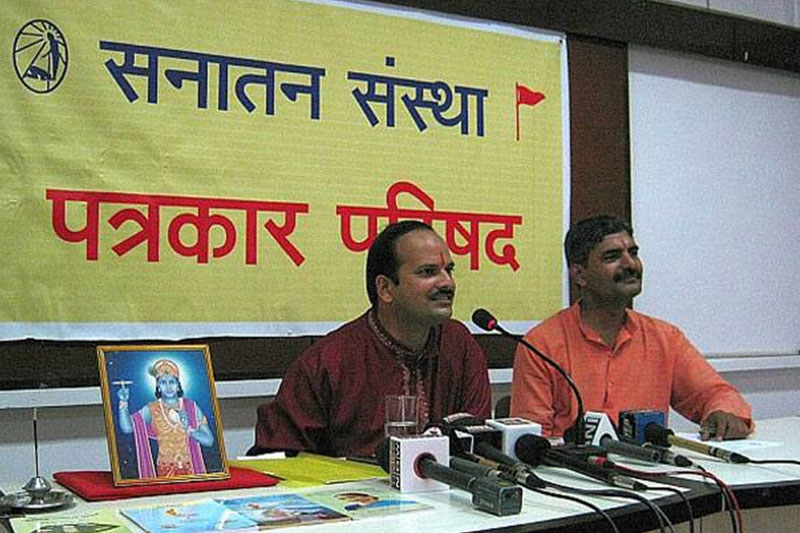 The Maharashtra Government had proposed a ban on the Sanatan Sanstha following the murders of two of their eminent ideologues Narendra Dabholkar and Govind Pansare.
The Goa-headquartered outfit has been linked to two high profile murder cases and also terror activities in the coastal state and Maharashtra. The Sanathan Sanstha has also been accused of being behind the assassination of journalist Gauri Lankesh.
Psychotropic drugs were found at Sanatan Santha's Panvel office during a raid by Kolhapur police in comrade Govind Pansare's murder case investigation. Raigad Food and Drug Association (FDA) had filed a chargesheet on the same and the case is still subjudice. Sanatan Sanstha sadhak Yogesh Naik and Malgonda Patil got killed in a bomb blast they were carrying on a scooter. In 2009 Madgaon bomb blast case, NIA appeal is pending. Rudra Patil, Sarang Akolkar, Jai Prakashanna Patil and Praveen Limkar all Sanatan Sanstha activists are still at large.
Vinay Pawar, another Sanatan Sanstha activist is absconding after Madgaon bomb blast. His name wasn't mentioned in Goa chargesheet but his name is mentioned in Narendra Dabholkar and Govind Pansare murder case. The CBI has announced Rs 5 lakh award for any information about Dabholkar killers. What seems to have nailed the killers is how the modus operandi was the same in the murders of all four thinkers. Kalburgi, Pansare, Dabholkar and Lankesh all opposed the right-wingers and the Hindutva ideologies vehemently. It was evident in their writings and speeches that they severely criticised the right-wing fundamentalist.
Sanatan Santha activist Virendra Tawde's bail is rejected. He is shown as a kingpin in both Dabholkar and Pansare murder case. His wife has given a statement to Kolhapur police that Sanatan Santha doctors administered psychotropic drugs without her knowledge. She told the police that she has stopped consuming the drugs given to her.
Sanatan Santha activists Vikram Bhave and Ramesh Gadkari are convicted in the Thane bomb blast case. It is alleged that they had also planted bombs at Vashi and Panvel.
They are out on bail after spending 5 years in jail. Maharashtra government has filed an appeal demanding an even more severe imprisonment for both the criminals.
CM Devendra Fadnavis has informed in the assembly session that Maharashtra government's proposal to ban Sanatan Sanstha is still pending with central government.
In 2001 for 2 years Sanatan Sanstha was accused of training 15 members in walking on a rope, going through pipes, balancing rods, handling air rifles. The government of Maharashtra sought a ban on the Sanstha under the Unlawful Activities Prevention Act (UAPA), Minister of State for Home (Rural) Deepak Kesarkar said.
Kesarkar was replying to supplementaries on a calling attention notice moved by Vidya Chavan (NCP) regarding probe into the murders of noted rationalist Narendra Dabholkar and veteran Communist leader Govind Pansare.
Dabholkar was gunned down in Pune in 2013, while Pansare was shot dead in Kolhapur in 2015. In both the cases, the right wing group has come under the lens and two of its members have been arrested, while some accused are absconding. Gauri Lankesh was shot dead on 5th September 2017 outside her house in Bengaluru.
Also Read: Gauri Lankesh's anti-Hindutva videos used to encourage Parshuram Waghmore