Sanju: Rajkumar Hirani's ode to Baba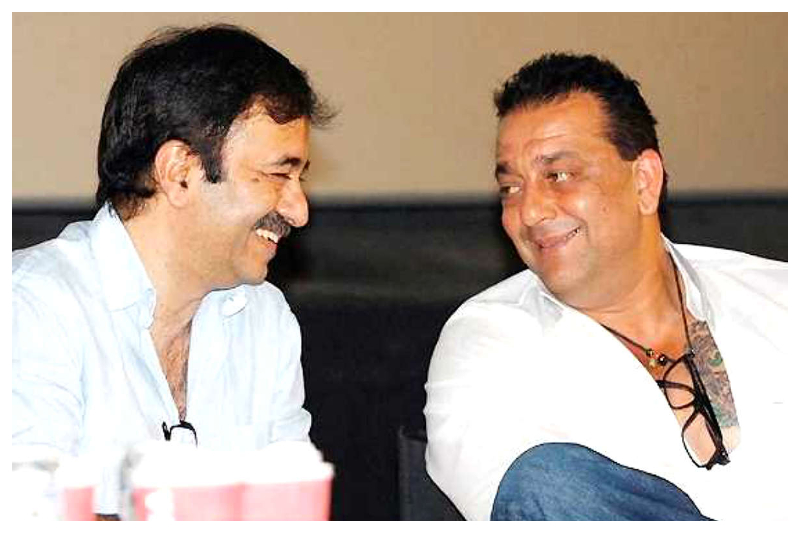 Kolkata: Superstar Sanjay Dutt should be indebted to Rajkumar Hirani. If readers start wondering why, then here's the reason! Hirani's directorial 'Sanju', the supposedly  biopic of Dutt is winning rave reviews. And quite justifiably so because of its content which one assumes is based on true facts and not fabricated ones.
If we are to seriously go by what Hirani's film depicts, then the misunderstood actor becomes a hero because the film may not beg for sympathy, but quite diplomatically earns it. It's a superb presentation that does not smack of blatant support for a man who had to go through hell!
Now, why do we say, 'Sanju' does wonders to Dutt's career? Simply put, the film makes one cry for its honesty, but in the process makes a convict a darling in the eyes of the common people. At the same time, it helps Dutt woo back those fans who had shunned him post his conviction.
Also read: 'Sanju' the sixth highest opening day of all time
Without going too much into the details of the film, 'Sanju' in one sense is a cleverly-crafted effort to show Dutt in a good light. Yes, we buy the fact that it's an honest endeavour, but having said that, Dutt himself has no justification behind his decision to keep arms to protect his family without taking the legal route. At the same time, taking swipes at the media every now and then is like demeaning the Fourth Estate. The Dutt family needs the media and vice-versa!
But keeping this aside, the film is an emotional ride that makes you introspect. It drives you to ensure that your parents are not pushed to a point of no return because of your levity. It wakes you up and opens a new world full of peace and harmony. It sends a message to wayward young ones to mend their ways and get a grip over their lives. Yes, the film in one sense does a world of good to the society and Hirani and team deserve plaudits on this front.
Nevertheless, a 'conscious' effort to cleanse Dutt's image would make skeptics smell a rat. And why not? After all, it was Dutt whose portrayal of Munnabhai made Hirani, the trusted director he is now. In one sense, 'Sanju' looks to be the medium through which Hirani expresses his gratitude to Baba (Dutt).
Also read: Sanju review: Ranbir Kapoor's come back is going to crack box office
This critical analysis by no means is intended to discredit anybody associated with the film. 'Sanju', without doubt is one of Hirani's best ventures and has the recipe for a blockbuster. But on the other hand, it wins back Dutt what he has lost i.e respect. Amid the plethora of die-hard fans that Dutt has managed to woo, the list only enlarges courtesy 'Sanju'.
'Sanju' would no doubt resurrect Ranbir Kapoor's career but at the same time it comes to the rescue of a man who is not taken seriously by a major section of the society! And we are talking about Dutt who is a superstar in his own right.
Yes, the Munnabhai team is adroitly back with a bang.
(The writer is Features Editor, Eastern Chronicle, Kolkata)