Satya Pal Malik We have to kill militancy, not militants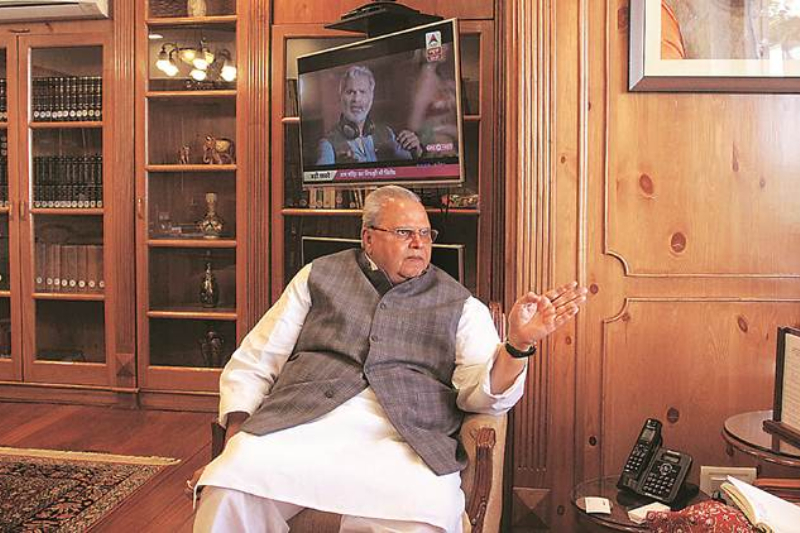 "We have to kill militancy, not militants and have to make militancy useless in the eyes of the people, that they don't need it," this was said by Jammu and Kashmir Governor Satya Pal Malik on Thursday in an interview to The Indian Express.
When asked about the current situation of Jammu and Kashmir, Governor Satya Pal Malik said that he has not tried to view the state from the point of view of officials, but from the point of view of the people. "Someone told me I should start 'baat-cheet' (conversation) but that cannot be done right now. What people need, what needs to be done, I have understood that agenda and I'm working in that direction already," he added.
He also said, "My utterances are in that tone as well. I have not tried to offend anyone. I want people to notice, that this is not someone from an enemy state but someone from among them. Governor's house is open at all times. I meet people at all times, my phone is always on. My information is not from the bureaucracy or agencies but locals here. Whoever comes to meet me, I make my opinion based on that."
In reply to a question asked about his opinion, Governor Satya Pal Malik said that his mandate from the Prime Minister is, there has to be no politics, but outreach. "PM has asked him to give people a feeling of comfort that the Governor's house is of people's, be available to the people and address their issues," he added.
"I respect the mainstream parties. I have great relations with Mehboobaji (Mufti) and Farooq (Abdullah) sahab. I have no intention to meet the Hurriyat, but I respect them also. They have a viewpoint, we may differ but mutual respect should be there," he added.
The governor also asserted that the problem is, that the younger generation is filled with angst and frustration. It has to be addressed and that will eventually improve the situation here. "Boys between 13 to 20 years old, they are filled with immense frustration, they have lost faith in the system, in political parties, in Pakistan, in India, everything," he added.
"Since I have taken over, there have been no major killings and incidents of stone-pelting. Although 31 terrorists have been killed since then. People will tell you that Governor's raj is better because their issues are being resolved, work is happening. I would want that a government to power as soon as possible, this is difficult work," Satya Pal Malik noted.
Asked about Pakistan, he said, "We can talk to Pakistan, it is inevitable. But India will not bring Pakistan in on a dialogue on Kashmir. They will bring up the issue, this is in the Shimla Pact also, that we will address issues through bilateral talks." However, he further asserted that the dialogue with Pakistan is neither his mandate nor agenda.
Answering on a question asked by The Indian Express over his understanding of the problems of the younger generation of Kashmir, Governor said, "Right now the younger generation is living in the dark, and in their frustration, they are not understanding things clearly. The narrative given to them is a fundamental narrative, dreams of heaven. We cannot argue with them and bring them back. We can only bring them back through love and the understanding that we are friends and you tell us what needs to be done."
"They have very little to do. They are interested in sports, so I have decided to pay attention to that. International stadiums will come up here in Srinagar, and two in Jammu. Every district will have stadiums. In the districts, I have told the DCs to provide space to be used as a playing field for children. If you don't give them a ball, they will pick up stones," he answered.
"Central schools, Army and police schools – on the CBSE curriculum – should be opened, especially in South Kashmir. And I tell you this with a guarantee that terrorists will want to admit their children in these schools because this opens the way for them to go forth in life," he added.
On being asked about who will form the government in centre in upcoming 2019 polls, Satya Pal Malik said, "Narendra Modi will come back to power for another five years, and while he is in office, J&K will see no political machinations. Elections will be absolutely fair."
Answering to his priorities for Jammu and Kashmir, he said that the first priority is to reach out to the people. "Secondly, to make them believe I am one of them. Thirdly, to stay available to them. Fourthly, we have decided that for all projects that have not been completed – several of them – we have created a corporation (JK Infrastructure Development Finance Corporation Ltd) and mobilized Rs 8,000 crore from banks. All of these projects will be completed in six months to a year," he said.
Taking on the issue of Article 35 A, he said, "I told them (parties), 35A is not an issue. This is posturing for the Assembly elections." "I am not an elected representative, but my stand is that arguments on 35A should be deferred until there is an elected government in power. And in January, when we go back to the court, we will say the same thing," he added.
"BJP is not involved. Modiji's men are not in the case. They are not pleading," he said. "My position is endorsed by the Centre and even Omar sahab has said the same thing," the J&k Governor added.
When asked about militancy could be wiped out, he said, "I'm not in favour of wiping out militancy. I'm in favour of talking and settling affairs here in a way that they become redundant." "We have to kill militancy, not militants. We have to make militancy useless in the eyes of the people, that they don't need it). You kill one militant and five more will join, but I'm not for that," he concluded.
 Also Read: Satya Pal Malik: Protocol will not stop me to reach people of Valley