Saudi Arabia Releases Pictures of Black Stone in Mecca
Saudi Arabia releases never-before-seen images of Black Stone in the Grand Mosque in Makkah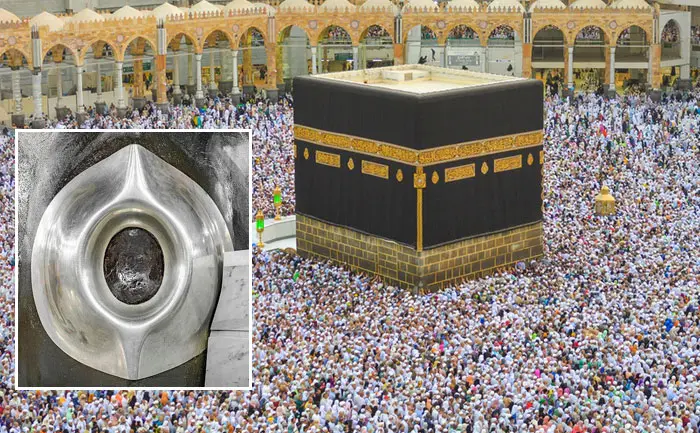 In a historic first, Saudi Arabia has released several high-resolution photos of the Black Stone in Mecca. This is for the first time, the world can see such detailed images of the al-Hajar al-Aswad, or the ancient religious 'Black Stone'.
The General Presidency for the Affairs of the Two Holy Mosque took 1,050 photographs of the Black Stone and the shrine of Ibrahim using Fox Stack Panorama technology. It combines images with varying degrees of clarity to produce a single accurate high-resolution picture of the Black Stone. The stone is also known as Hajar Aswad in Arabic.
The Black stone is set into the eastern corner of the Kaaba by the Prophet Mohammed in 605 CE. The stone is positioned 1.5 meters above the ground and placed inside a frame made of pure silver for protection. The stone is the starting and finishing point of the circumambulation. During the Hajj, the most important annual Islamic pilgrimage to Mecca, devotees walk counter-clockwise around the black stone.
Arab News tweeted,
#WATCH: Saudi Arabia's @hsharifain releases new specially processed images of details on the #BlackStone in the Grand Mosque in #Makkah
Read full story: https://t.co/lLAtY38e4K pic.twitter.com/YWxXhmcr3j

— Arab News (@arabnews) May 5, 2021
The never-before-seen images of al-Hajar al-Aswad, or the 'Black Stone', are up to 49,000 megapixels in size. They took more than 50 hours to photograph and develop. It is the first time the authority has been able to show the Black Stone in such detail.
The pictures of the Black Stone were posted on social media and it took the internet by storm.
Also Read: 35 killed, 4 injured as bus crashes near Mecca in Saudi Arabia