Sharad Pawar: NCP to align with Congress for 2019 elections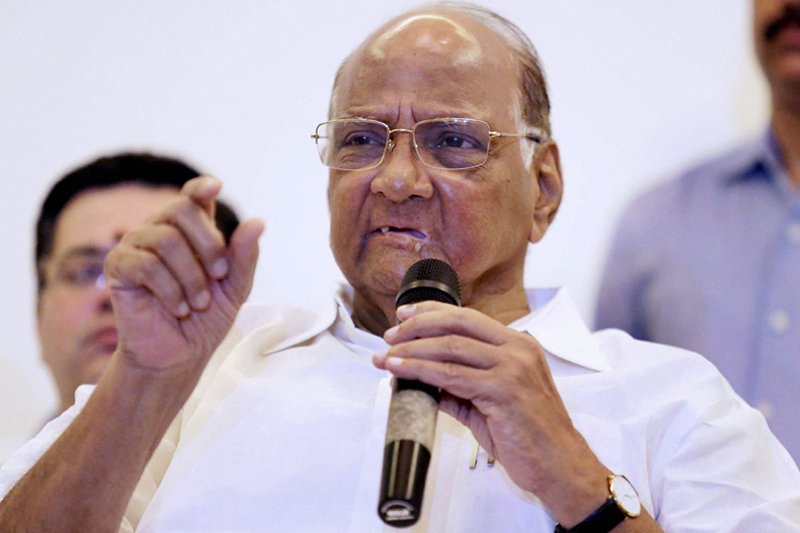 Contradicting his previous decision on not making an alliance with the Congress, NCP chief Sharad Pawar said that Maharashtra Congress-NCP state leadership has reportedly agreed to forge an electoral alliance for 2019 Lok Sabha polls. The alliance has also been forged for the Assembly elections for Maharashtra.
Expressing his opinion at a party meeting on Monday, Pawar, as reported by The Indian Express, vouched for forging alliances of anti-BJP parties at a state level. He also stated that since there a confusion over who will become the prime ministerial face for the united opposition, let there be a consensus after the polls on that.
Powar, a strong candidate in the PM race recalled the incident of 1977 and 2004, where, even after winning the elections, parties were undecided on whose hands the nation's command could be given. In 1977, non-Congress parties had come together to form the government and after detailed discussion, Moraraji Desai became the PM.
Similarly, in 2014, the wave turned upside down in favour of Congress. Recalling the stats, Pawar said, as quoted by Indian Express, said, "In 2004, no (non-BJP) party had a majority. No leader or party was projected (as prime ministerial face). The BJP had then launched a massive India Shining campaign but was defeated."
With concerns over tampering of the Electronic Voting Machines (EVMs), Pawar asked the Election Commission to revert to using ballot papers during polling. Attacking the current Prime Minister Narendra Modi, the NCP leader stated that the people of India will teach him (Modi) a lesson. He stated, "Narendra Modi is a strong competitor (now). But don't worry, the common man of this country is more aware and smarter than us."
Known as a Maratha strongman, Pawar stated that he would visit each state in the coming months and make regional parties — non-BJP ones — to forge an alliance for 2019 Lok Sabha elections. Noting the fact that Congress is strong in Gujarat, Rajasthan and Madhya Pradesh, Pawar was of the view that Mayawati, Akhilesh Yadav and Mamata Banerjee could play a leading role in united alliance. However, he refrained from speaking on the alliance with MNS chief Raj Thackeray in Maharashtra.
ALSO READ: Sharad Pawar: Party securing maximum seats can claim PM post in 2019