Sharmistha Mukherjee strikes at her own 'father Pranab Mukherjee' on eve of RSS speech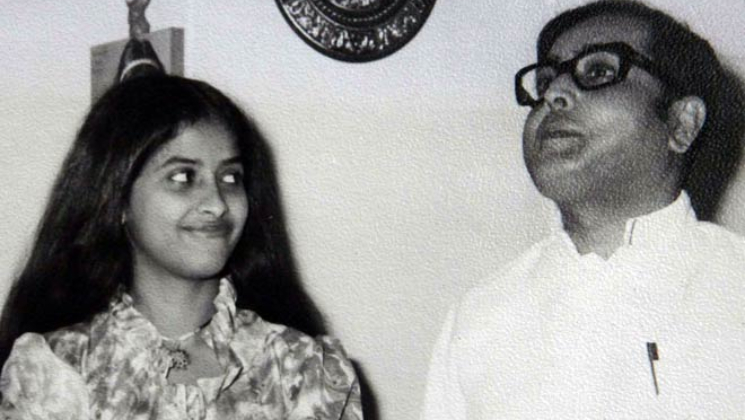 Today that is Thursday, 7th June 2018, former president Pranab Mukherjee will be giving a speech at a at a Rashtriya Swayamsevak Sangh (RSS) function in Nagpur. His daughter and Delhi Congress spokersperson Sharmistha Mukherjee striked at him, saying the Sangh Parivar is already calling his visit an endorsement of the saffron ideology.
On Wednesday, She tweeted that BJP's "dirty tricks department" is sure to use the attention of his address to Sangh volunteers at the RSS headquarters to spread false accounts and rumors.
Hope @CitiznMukherjee now realises from todays' incident, how BJP dirty tricks dept operates. Even RSS wouldn't believe that u r going 2 endorse its views in ur speech. But the speech will be forgotten, visuals will remain & those will be circulated with fake statements. 1/2

— Sharmistha Mukherjee (@Sharmistha_GK) June 6, 2018
As you can see in tweet Sharmistha said, "@CitiznMukherjee (Pranab Mukherjee's Twitter handle), by going to Nagpur, you are giving BJP/RSS full handle to plant false stories, spread false rumors as today and making it somewhat believable. And this is just the beginning!" The "rumors" pointed to speculation that Sharmistha was joining BJP, which she strongly denied. While countering that she would rather quit politics than leave Congress, she said she joined the profession "because I believe in Congress".
"Even RSS wouldn't believe that you are going to endorse its views in your speech. But the speech will be forgotten, visuals will remain and those will be circulated with fake statements," she said.
So far during the whole buzz about former president Pranab Mukherjee attending a RSS event, it was observed that she was silent and didn't comment on anything. But it came out as a surprise when she tweeted the day before the event which not only smashed the opponents but media as well who were judging her to be a Wolf in Sheep's clothing.
The powerful words from his daughter beaten up his long term association with Congress also showed that its too hot to deal if he is willing to direct RSS today.
Urging him to call off his visit to the RSS office, Congress functionaries have gone from expressing surprise to warning Mukherjee that he was reneging on his five decades of politics and convictions.
Condemning at him Congress functionaries over the past week still waiting with restrained breath for Mukherjee's speech. While nobody believes that he would even come close to agreeing with RSS, many hope that he would use strong words to slam "communalism" and "Hindutva"
Some felt that public dissent from Sharmistha showed that Mukherjee did not have the family's nod in visiting the RSS office.