Shawn Mendes & Camila Cabello Perform 'My Oh My' During iHeartRadio Living Room Concert
All proceeds from the concert will go to Feeding America and First Responders Children's Foundation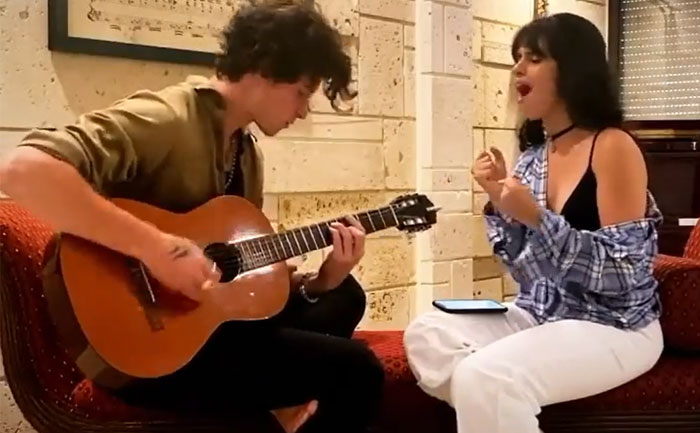 A lot of celebrities have come forward to perform during the iHeartRadio Living Room Concert for America hosted by Elton John on Sunday. Camila Cabello and Shawn Mendes were two such celebrities. Camila was seen performing her song "My Oh My" with Shawn playing the guitar for their iHeartRadio Living Room Concert.
All proceeds from the iHeartRadio Living Room Concert for America will go to Feeding America and First Responders Children's Foundation.
The "Havana" singer has a few words for her fans before the concert. She said, "Hey guys, it's Shawn and Camila here! We're at home in Miami. We just wanted to say to everybody that the best thing we can do right now is stay home, in order to protect our loved ones, each other, and the people that are the most vulnerable. Let's keep staying at home, let's keep self-isolating."
Shawn added, "I also want to say thank you to all the incredible brave nurses and doctors working so hard every day — we're thinking about you so much. Thank you for everything that you're doing." Shawn then brought out his guitar as Camila teased, "And we're doing something special today! Shawn is helping me out…we're going to be performing 'My Oh My' for you guys! We love you. She also reminded fans, "We're in this together. Stay safe, stay healthy, stay kind and compassionate with yourself and with each other — and let's pull through this together."
The Elton John hosted show saw a lot of big names perform. In addition to Shawn Mendes and Camila Cabello, the iHeartRadio Living Room Concert features Mariah Carey, Billie Eilish, Alicia Keys, Backstreet Boys, Billie Joe Armstrong, Tim McGraw and more.
ALSO READ: 6 Home Quarantine Activities To Keep Yourself Entertained During Self-Isolation