Shayna Baszler Takes A Shot At WWE's Four Horsewomen
Shayna Baszler was a part of the original Four Horsewomen in MMA with Ronda Rousey, Marina Shafir, and Jessamyn Duke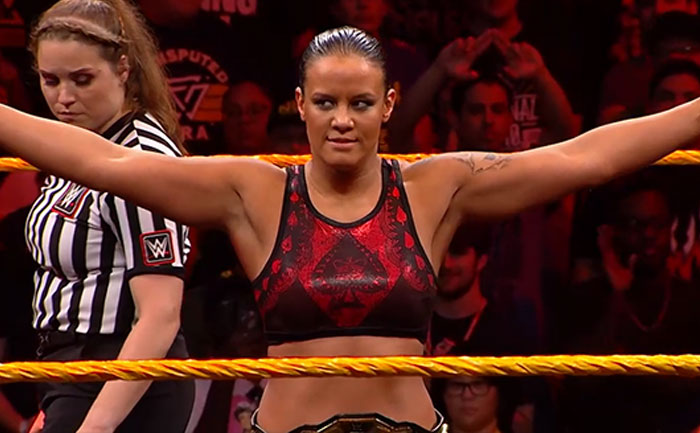 Shayna Baszler, who was a part of the original Four Horsewomen in MMA with Ronda Rousey, Marina Shafir, and Jessamyn Duke has taken a shot at WWE's Four Horsewomen.
Shayna Baszler had all the promise of taking WWE by storm when she first arrived on RAW. However, she never quite lived up to her potential and lost to Becky Lynch. In addition, her recent showing at the Money in the Bank "Climb the Corporate Ladder" match was nothing to write home about. While it did take three wrestlers to take her down, she didn't even make it to the roof.
This has led to speculations about whether her run to the top has finished before it started. However, Shayna Baszler may have something to add to that. Recently, WWE superstar Alexa Bliss tweeted about her exclusion from the Money In The Bank ladder match. She had a definite theory regarding her omission. Bliss tweeted that the reason WWE didn't put her in the match was that WWE is busy putting over the Four Horsewomen.
But I'm not a 4HW 🤷🏼‍♀️ https://t.co/VfQCvVwHAa

— Lexi Kaufman (@AlexaBliss_WWE) May 10, 2020
However, Shayna Baszler couldn't let the opportunity to slam the Four Horsewomen slide. She responded to Alexa Bliss' tweet. She wrote, "Neither are any of them. #authentic #original #4HW"
Neither are any of them. #authentic #original #4HW https://t.co/fnM2pYxIuo

— Shayna Baszler (@QoSBaszler) May 11, 2020
The prospect of a feud between the Four Horsewomen of WWE and MMA seems like an interesting prospect. However, neither group is at full strength at the moment. WWE superstar Becky Lynch just announced her pregnancy while Jessamyn Duke is said to be out due to injury.
While a full-blown feud between the two factions may not be possible at the moment, we would love to see this story progress further.