IRCTC ticket booking from 6 pm May 12: Full list of trains, routes and timings
Indian Railways to run special trains from today: Check full list of trains, stoppages and timings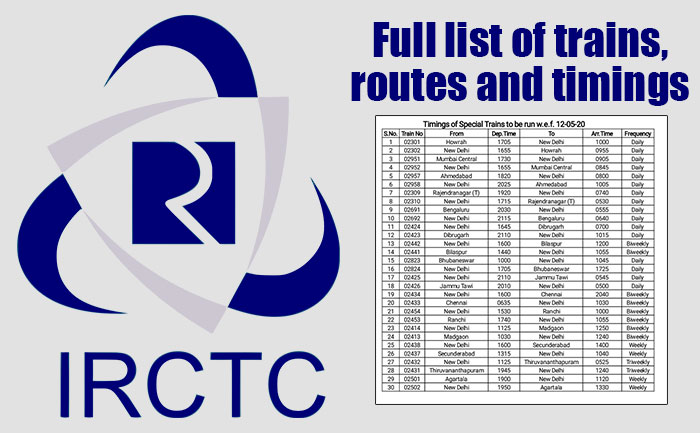 The Indian Railways have remained off the tracks for the past 51 days due to the ongoing coronavirus lockdown. Here is some good news, the Indian Railways is resuming passenger train services on 15 select tracks across the country from May 12. The train services will initially begin with 15 pairs of trains or with 30 journeys from Tuesday. These trains are different from 'Shramik Special' for stranded migrants. The existing 'Shramik special' trains will continue to run as per the current system on the request of the concerned state governments.
As per the Indian Railways, travellers would have to reach the stations 90 minutes in advance to board the special Rajdhani trains. Passengers would have to bring their own food and blankets and bedsheets from home. The Railways has also "advised" passengers of these trains to download the Aarogya Setu app. Only asymptomatic and confirmed ticket holders will be allowed to travel.
The online booking of tickets started on Monday. No sooner did it start at 4 pm the official IRCTC website crashed.
Here is all you need to know about the routes, timings, and trains:
How many trains will operate and along which routes?
15 pairs of trains (30 return journeys.) These trains will be run as special trains from New Delhi station connecting Dibrugarh, Agartala, Howrah, Patna, Bilaspur, Ranchi, Bhubaneswar, Secunderabad, Bengaluru, Chennai, Thiruvananthapuram, Madgaon, Mumbai Central, Ahmedabad, and Jammu Tawi.
When will the booking start and where will it be available?
The booking for reservation in these trains has started again at 6 pm. It will be available only on the IRCTC website (https://www.irctc.co.in/) and not the ticket booking counters.
Precautions to be followed:
Only those passengers with confirmed e-tickets shall be allowed to enter the station. It will be mandatory for the passenger to wear face cover and undergo screening at departure. All passengers shall be provided hand sanitizer at stations and in coaches. On arrival at their destination, the passengers will have to adhere to such health protocols as are prescribed by the destination state.
Will there be concessions? How much will a ticket cost?
No concession will be allowed on the trains. The fares of these trains will be that of Rajdhani trains, which means all these will be all air-conditioned trains and will be available on premium fares.
Officials confirmed there is no provision of 'tatkal' and 'premium tatkal' accommodation. There are very few stoppages during the journey. No 'current booking' to be allowed.
Here is the complete list of all the trains and their running schedule: