Shiv Sena, Sharad Pawar ridicule plot to assassinate Modi, label it 'horror film story'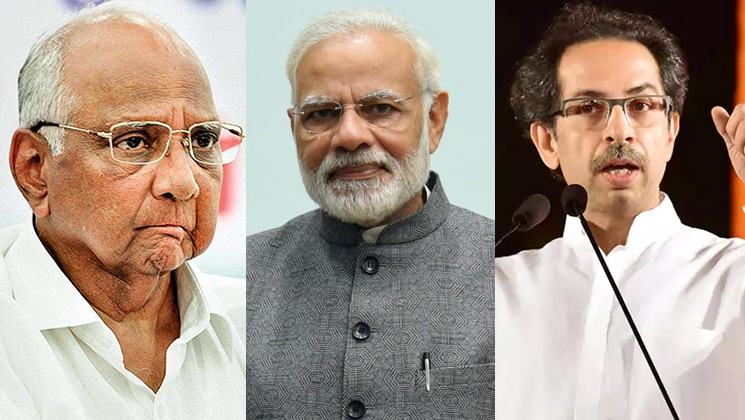 The ruling Bhartiya Janta Party's (BJP) ally Shiv Sena and Nationalist Congress Party (NCP) chief Sharad Pawar have mocked and questioned Maharashtra government's claim that Maoists were plotting to assassinate Prime Minister Narendra Modi.
While the Shiv Sena said the claim "does not seem to be legitimate", Pawar accused the BJP of playing the "threat letter card" to gain sympathy. The comments came over a claim by Maharashtra police that Maoists were plotting assassination of the prime minister as well as Maharashtra Chief Minister Devendra Fadnavis.
The police, after arresting five people with alleged maoist links last week, had said that a letter was seized from the house of one of them in which there was a suggestion about assassinating Modi in "Rajiv Gandhi-type incident. The plot to assassinate them (Modi and Fadnavis) seems mysterious and the story of a horror film," said an editorial in Sena mouthpiece 'Saamna', while noting that a letter purportedly suggesting this has come to light."
It said the issue is being milked for political purpose. Quoting contents of the supposed Maoist letter, the editorial said, "Modi has succeeded in forming governments in 15 states. If this continues, the organisation will be in trouble. And thus, Modi should be eliminated. All this was revealed by the police which seems laughable."
It added, "This conspiracy does not seem to be legitimate, is what being said by the experts." On one hand, Naxalites plan to procure M-4 assault rifles along with four lakh rounds of ammunition and on the other hand, leave behind an assassination plot as evidence, the editorial wondered while referring to the police claim. The Sena said that Modi's security is as strong as Mossad (Israel's intelligence agency) and it is virtually impossible for anybody to penetrate it.
Similarly, Fadnavis has converted the state secretariat into a "fortress", where the movement of common man has become difficult, it said. In remarks laced with sarcasm, the Sena said Modi and Fadnavis should be provided with elaborate security cover so that they live even if "it is okay if lakhs of people die" (in Naxalite attacks).
Earlier, Pawar raised doubts over the veracity of the threat letter.
"The BJP has realised that they are losing the popular support. In order to gain sympathy, the BJP is now playing the threat letter card. However, I am sure that the people will not fall prey to such tactics," he said at a function in Pune on Monday.
"I have spoken to a senior retired police officer who told me that when such letters come they do not go to media but to the security agencies which make sure that adequate security measures are taken," the former chief minister said.
Fadnavis took to his Twitter to hit out at Pawar, saying he was not expected to "stoop to this level".
It is very unfortunate that Sharad Pawar ji is raising doubts about the communication ceased by the police which revels the plot to assassin Hon PM @narendramodi ji.

— Devendra Fadnavis (@Dev_Fadnavis) June 10, 2018
"It is very unfortunate that Sharad Pawar ji is raising doubts about the communication seized by the police which reveals the plot to assassinate PM Narendra Modi ji. He is the leader of our nation and not just of a political party," Fadnavis tweeted last night. "@PawarSpeaks is not expected to stoop down to this level. Police has all the evidences and truth will prevail," his tweet further stated. In a tweet in Marathi, Fadnavis said that "Pawar ji should play politics of the nation and not politics of hatred."