Shocking! 16 nurses pregnant at the same time in Arizona hospital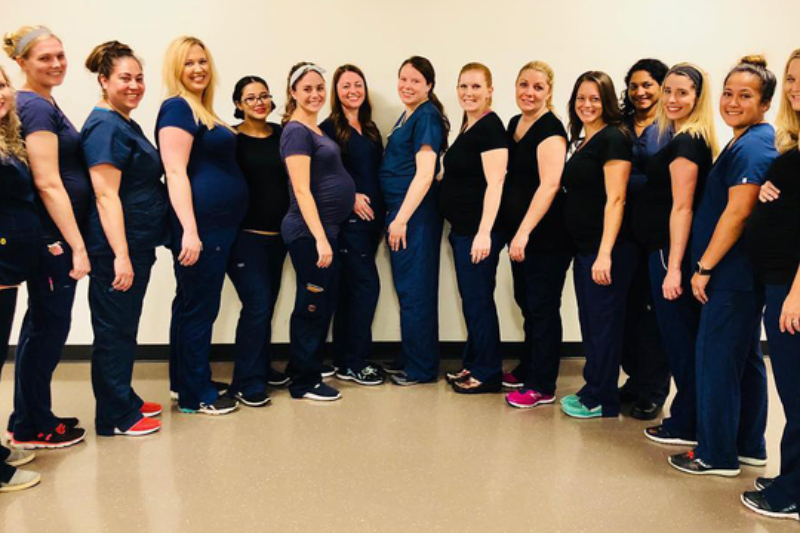 There's a baby boom in an Arizona hospital and it is for all the bizarre reasons. It is not the maternity ward that is making news, but the hospital staffers themselves!
Sixteen nurses who work in the intensive care unit of the Banner Desert Medical Center in Mesa are pregnant."I know a couple of us did fertility treatments," nurse Paige Packard said at a news conference Friday."That's how I ended up finding out that everyone was pregnant. I was like, 'Oh, well, I didn't plan this. Did we have some kind of pact going I didn't know about?'" Packard said. "There was no pact. The baby fever is just a happy coincidence".
The nurses said they all like to go to the cafeteria together to satisfy pregnancy cravings. One said she asked a cafeteria worker whether he could make the salad bar more "pregnancy-friendly," and suggested the cafeteria add pickles and olives. "The next day there were pickles and olives," the nurse said.
The nurses also said patients have started to notice the growing bellies at the ICU. A Banner official said the hospital has been planning for the looming nurse shortage for months now. The nurses, who are due between September and February, will go on maternity leave for 12 weeks. "The 16 nurses are from three different critical care units," said Heather Francis, nursing director for various ICU units at Banner. The hospital has gifted each pregnant nurse a special onesie to celebrate the occasion. The onesies say: "Relax… my mom is a Banner Nurse!"
Also Read: NDMC hire 40 youth dressed as 'Langurs' to scare away monkeys around Parliament