Shruti Haasan Would Marry THIS Beautiful Actress If She Were A Man
Shruti Haasan said that she would have married Tamannaah Bhatia if she were a guy: 'She is such a good girl'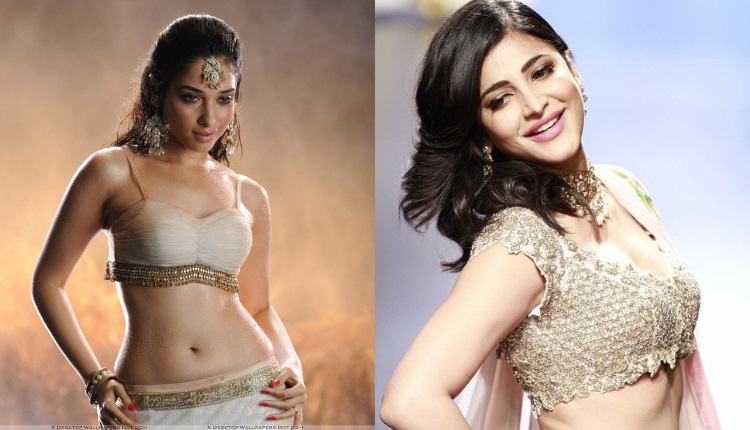 Shruti Haasan, who is a leading South Indian film actress and also worked in several Hindi movies, recently appeared on Famously Filmfare Tamil. Shruti Hassan is one of the most followed actresses on social media. At the show, when asked whom she would have asked for a date if she were a man, she promptly named the gorgeous actress, Tamanna Bhatia.
'Ramaiya Vastavaiya' actress said that if she were a guy, she would take Tamannah out on a date. She said, "Actually if I were a man, I would marry Tammy. She is such a good girl, I won't let her go easily."
Shruti made her acting debut as a leading actress with 'Luck' opposite Imran Khan, which did not perform well at the box office. She made her acting debut in Tamil with 'Ananagaga O Dheerudu' along with Siddarth. At the show, she admitted that working in 'Luck' with Imran Khan was a wrong decision as she was not ready at that time.
Shruti said,"My first movie, I don't know whether it was a right decision or a wrong decision. Actually why I see that as a wrong decision is because I was not ready at that time."
"I was not aware of the depth and emotion and pressure of cinema. I was in a band and then suddenly I landed up here from the music world. Only after the movie was over, I realised its value. It was a learning process but ultimately it has been my own decision. So whether it is a failure or success, I am able to understand it for myself. Having said that, they have been always supportive from the beginning. I had my parent's support," she added.
Shruti Hassan also credited her parents (Kamal Hassan and Sarika) for her good looks."Both (Sarika and Kamal) have looks that can kill and both of them have the same combination. I respect my father a lot; the way he does things, both personally and professionally. Seriously, I have a lot of respect for his achievements — not because he is my father, but because his style of doing everything is very different. Other than that, I can talk to him casually, I can openly share what I have in my mind. I would say that he is a kind of a very liberal father."