WhatsApp 2.19.75 New Beta Features – Private Reply In Group Chat & Video Playback From Social Link
Upcoming Features Tested in Beta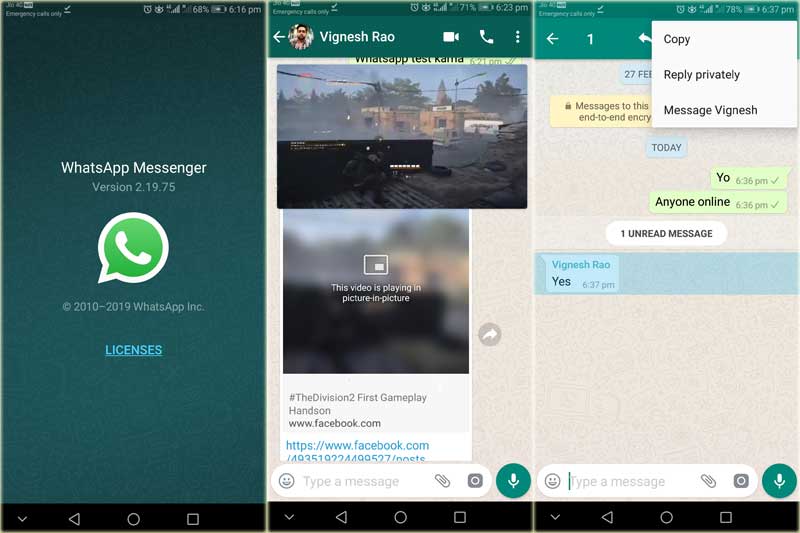 WhatsApp has pushed version 2.19.75 for beta tester that revealed two new features that will be soon implemented in public edition. Before this Beta Version 2.19.73 added an image verification filter to find out image shared through the chat messenger is legit or fake.
Called as Search By Image, the new feature to be implemented first will verify the image legitimacy by using Google API to find similar or equal image on the web. Once a user receive or sends an image, the feature will pop up an alert to search image online and reveal the result. This will play a vital role in finding whether the image shared in form of news or any info is real or fake.
Moving a step ahead beta version 2.19.75 will be adding two new features. The first is users can directly play a video from links shared through Facebook, Instagram and Youtube. Before whenever a user receives a shared link it takes them on the respective app platform for playing the video. The update will eradicate this issue and will play the video directly inside the chat box.
Second feature is more helpful, in a group chat now a user can directly send a private reply by tap on the message of user for few seconds and from the top right menu tap on three dots to view Private Reply. If you want to test then visit the following link, provide your email id and get WhatsApp beta apps to test new features first.