Shruti Haasan, Samantha Akkineni Bring to Life Iconic Raja Ravi Varma Paintings
Samantha Akkineni, Shruti Haasan, Ramya Krishnan recreate Raja Ravi Varma's paintings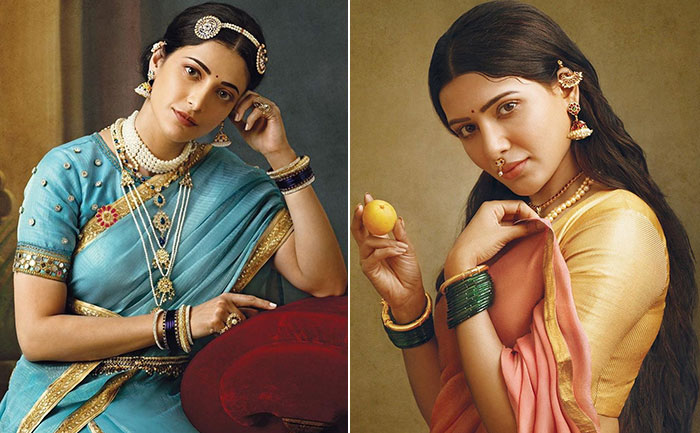 South actresses Shruti Haasan, Samantha Akkineni, and Ramya Krishnan have come together for a common cause. The South stars have replicated the beautiful muses of legendary painter Raja Ravi Varma for a calendar shoot. The actresses have recreated the poses of the artist muses by wearing similar clothes and jewelry. The end result was truly magnificent. The replication was shot by photographer G Venket Ram. The recreation is so perfect that you will be unable to distinguish the original paintings and the photographs.
Here are the pictures shared by the actresses on Instagram:
Samantha took to Instagram and shared her picture, recreating Varma's painting of a woman holding a fruit. "Always the best working with you @venketramg… recreating Ravi varmas work for NAAM. So glad I could be a part of this meaningful project .. Thankyou," she wrote in the caption.
Ramya has recreated Varma's painting of Damayanti, dressed in a red sari, talking to the swan who told her about King Nala's love for her. "Recreating Ravi Varmas work for NAAM …feeling blessed thank you @suhasinihasan for this wonderful opportunity and @venketramg your the best…..glad to have been a part of this project," she wrote.
Shruti Haasan recreated two paintings of Raja Ravi Varma – one of a lady by a river while the other is of Rani of Kurupam. She is dressed in a purple saree for one and in a blue saree for another, the colours matching the exact originals. "Such an incredible experience shooting for this and such an honour to be associated with this cause !! Thankyou @suhasinihasan Akka for making me a part of something so memorable," she shared.
Aishwarya Rajessh shared her photo and wrote, "It was a fantastic experience working with G Venket Ram (@venketramg) and suhasini (@suhasinihasan) for recreating Ravi varma project for NAAM. So glad I could participate in such a meaningful project."
Khushbu Sundar also posed for G Venket Ram's 2020 calendar.
The calendar has been launched for Naam Charitable Trust, which completed a decade of work in women empowerment.
Also Read: Shruti Haasan to voice Elsa in Tamil version of Frozen 2