Shruti Haasan to voice Elsa in Tamil version of Frozen 2
Shruti Haasan to lend her voice for Frozen 2 in Tamil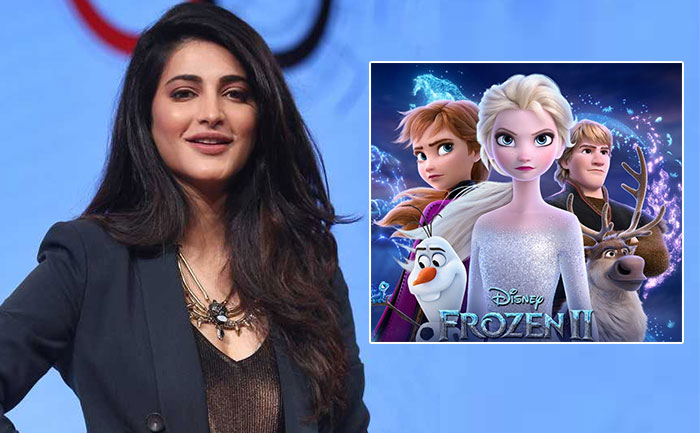 Shruti Haasan has been roped in to lend her voice for Elsa in the Disney film Frozen 2. The actress will lend her voice for the Tamil version in Frozen 2. Also, Shruti Haasan will sing three songs in the movie. As of now 'Into the Unknown' is the only track that the makers of the film have released from Frozen 2.
Super thrilled to be a part of the Disney film Shruti showed her excitement for being roped in to lend the voice in Tamil. "I absolutely adore the movie Frozen, and the bond shown between sisters Elsa and Anna is purely heartwarming. Being the elder sister, I completely resonate with Elsa's feelings towards Anna, and will do the same for my sister (actress Akshara Haasan)."she said in a statement.
Moreover, she also said that Elsa was every girl's role model and that she was elated to lend her voice and receive this golden opportunity to sing for Elsa's character in Tamil. Not only that, Shruti talked of the gripping and engaging stories, songs in the animated movies that held a special place in the bottom of hearts of the fans and that she is looking forward to present the sequel to her fans and her Tamil audience.
Shruti Haasan took to Instagram to share the news about the same. Check out here.
Apparently, the Hindi version of Frozen 2 will witness Bollywood actresses Priyanka Chopra Jonas and Parineeti Chopra lending their voices for Elsa and Anna in Hindi. Frozen 2 is all set to hit in theaters on November 22. The film will be released in English, Hindi, Tamil and Telugu.
Also Read: Shruti Haasan Opens Up On Parents Kamal Haasan And Sarika's Divorce