Sikh cop saves a Muslim youth from assault, broke the internet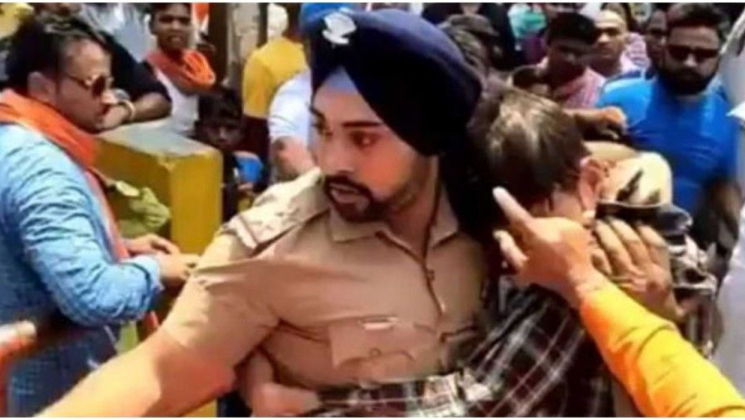 On Tuesday when a Muslim youth went to meet his girlfriend, a Hindu, at Garjia Devi temple about 15 km from Ramnagar in Uttarakhand.  Locals somehow came to know about it and reached the temple to "teach the duo a lesson", said ADG (law and order) Ashok Kumar.
On being informed about a trouble in the area, Sub-Inspector Gagandeep Singh rushed to the spot where he found a mob preparing to attack the couple alleging that they had been found in a compromising position.
He immediately rushed to their rescue drawing the Muslim youth close to him to act as a shield to him, and in the process taking several blows from the mob on himself, the ADG said, adding the mob was dispersed and the couple was taken to a police station from where they were sent back to their families.
The policeman has commended by his senior for intervening and rescuing the youth.
The incident took place on Tuesday, and several videos showing Singh shielding Irfan, and taking a few stray blows from the angry mob, went viral on social media over Thursday and Friday.
On Friday, after the videos were shared numerous times on social media, Nainital Senior Superintendent of Police (SSP) Janmejay Khanduri ordered a preliminary inquiry. Khanduri said that in appreciation of Singh's work, Nainital police will award him with Rs 2,500.
Besides devotees, the temple, which sits by Kosi river, is also a favored destination for many tourists and local residents for recreational purpose. VHP leaders in Ramnagar have been protesting against this for the last two years.
The videos show the mob shouting "police prashasan murdabad" (down with police department) while Singh was shielding Irfan.
The videos show several saffron-clad men demanding Irfan's "ID" proof even as a few people assaulted him. Singh can be seen intervening and putting his arms around Irfan to shield him from the mob. "They (mob) didn't let me take him (Irfan) outside the temple area. Several people blocked the gates. I had to argue with them before I could leave the premises," Singh said.
"We salute the courage, compassion, and presence of mind of our young colleague from Uttarakhand Police in saving a man from a lynch mob. SI Gagandeep Singh exemplifies the values that should guide every police officer," IPS Association said in a tweet.
Picture Credits: YouTube