Did 'The Simpsons' Predict the Coronavirus Outbreak?
Could 'The Simpsons' Have Predicted The Coronavirus Outbreak In 1993 Episode?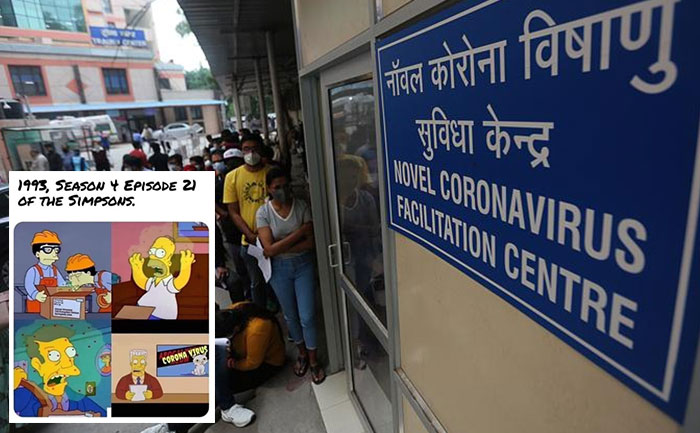 The deadly Coronavirus has taken over the world and the Internet alike. Many important events across the globe are being delayed, large gatherings avoided and cancellations of important government and sports events are its after-effects. The virus is causing a global panic. While the world is discussing Covid 19, shocking news is trending on the internet. Apparently the Simpsons had predicted about the virus in 1993.
Popular animated show The Simpsons featuring lovable characters as Homer, Marge, Bart, Lisa, and Maggie created by Matt Groening in 1987 quickly became everyone's favorite. Many believe the Simpsons have a reputation for predicting the future.
According to Twitter users, The Simpsons apparently predicted the coronavirus outbreak back in 1993. The 21st episode of season 4, entitled Marge In Chains, is believed to have "predicted" the coronavirus.
Aaaaaaaand the Simpsons predicted corona virus pic.twitter.com/8I2Rq1DbuM

— SalmayneYo (@young_salvatore) March 3, 2020
A number of pictures from old episodes of the animated comedy show have been circulating on the Internet suggesting that The Simpsons predicted the outbreak of the virus over two decades in advance. The stills are believed to be taken from a 1993 episode, where there is an illness creating chaos. Homer and Principal Skinner are seen infected with spreading germs over Springfield. One of the pics also shows the news anchor with the words "corona virus" written in the backdrop.
Simpson predictions from 1993 season 4 episode 21..wow Corona virus? pic.twitter.com/QDvcliJQOW

— ACE21 (@AceLomavatu) March 5, 2020
So everyone is gonna just ignore the fact that the Simpson's cartoon predictions are coming through?
1. 9/11
2. Kobe helicopter crash
3. Corona virus.#GuruCartoon#TheSimpsons pic.twitter.com/nYDo3jUhNp

— Lammy_lams (@lammy_lams) March 1, 2020
Well, reports abound that all of the images but one in that graphic is indeed from that episode of The Simpsons. The news desk graphic is actually altered to say Corona Virus rather than the very Simpson-y 'Apocalypse Meow' headline. The illness in the episode was called the 'Osaka Flu.'
Also Read: Salman Khan urges fans to stick to 'namaste' and 'salaam' as Coronavirus hits India