Delhi: Start-up's 40 ft purifier aims to clean city air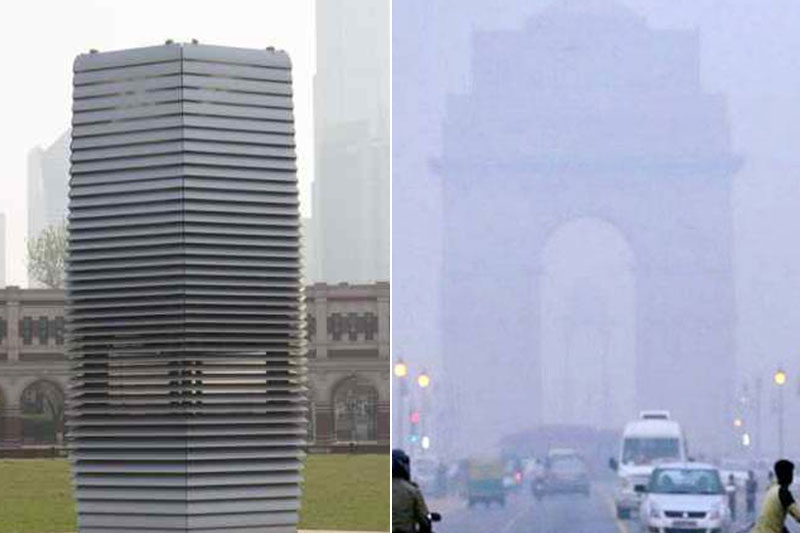 As the capital city of the nation is grappling with dangerous levels of air pollution, a Delhi-based start-up has designed a 40-feet-tall air purifier which it claims could provide clean air to 75,000 people living in the three-kilometre radius around it. The machine is basically a smog tower air purifier.
Published by the World Intellectual Property Organisation, its co-founder Pavneet Singh Puri said that Kurin Systems has recently got the patent for the 'world's largest as well as the strongest air purifier'.
Pavneet Singh Puri further added, "Specially designed keeping the national capital's air condition in mind, a single one of these purifiers can provide clean air in the three-km radius of their placement impacting the lives of 75,000 people."
According to a study by the World Health Organisation (WHO), India is home to six of the top 10 polluted cities in the world with Delhi topping the list.
The study also reveals that as many as 1.2 million people die every year in India due to air pollution, a Greenpeace report published last year showed.
The purifier, The company- Kurin calls the giant purifier as the 'City Cleaner', measures 40 feet in height and 20 feet on each side. It has the capacity to clean 32 million cubic metres of air per day, its makers said.
They further stated that the device will be able to take in air from all 360-degree angles and generate 1,300,000 cubic metres of clean air per hour.
Also read: Delhi: Air quality reaches to severe category after Diwali
The polluted air will be purified by using the highly effective H14 grade Highly Effective Particulate Arrestance (HEPA) filter, which can clean up to 99.99 per cent of the particulate matter present in the air in conjunction with a pre-filter and activated carbon.
The gigantic air purifier will have 48 fans to keep the flow of clean air going. This wonder product will run on energy generated via solar panels and will be made with materials sourced locally.
To clean out 99.99 per cent pollutants from the air, Kurin City Cleaner will use nine stages of physical filters.
To maximise the clear air delivery rate of the entire tower, there are nine filtration stages followed by centrifugal force.
Puri added that the tower can be completed within four months of getting it sanctioned from the concerned authorities.
Mentioning about its cost he said that the expected price range of the purifier would be between Rs 17.5 million to Rs 20 million per tower.
In the statement he also mentioned that the company has scale models ready that can be tested in any environment with PM levels as high as 2000.
Also read: 'Single-use' is Collins' word of the year