Who Is The Best Singer, Arijit Singh Vs Sonu Nigam?
Who would you call the best singer in Bollywood, Arijit Singh or Sonu Nigam?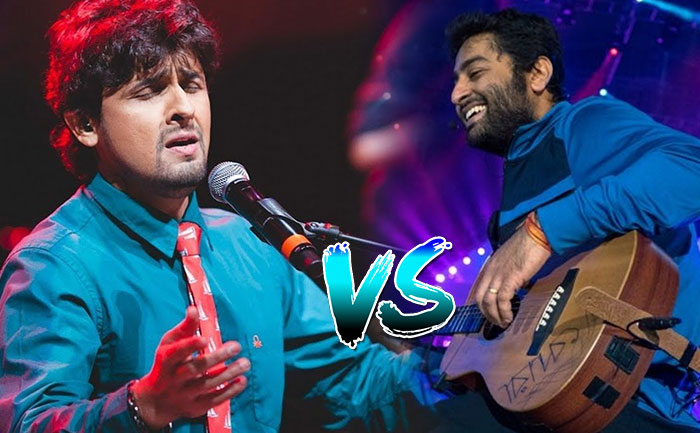 Arijit Singh vs Sonu Nigam: Who is the best singer? There are thousands of people are busy comparing these two singers with one another. Both Arijit Singh and Sonu Nigam are considered as India's best singers but they belong to two different eras.
There has been an everlasting debate on whether Arijit Singh or Sonu Nigam is the best singer? Well, we are not here to begin a war but the healthy comparison is always welcomed.
Back in the 1990s, when Sonu Nigam debuted in the music industry, he demonstrated variations in his voice that most of the other popular singers of his era (like Udit Narayan, Kumar Sanu or Abhijit) lacked.
Also Read | Who Is The Best Singer, Arijit Singh Vs Atif Aslam?
With an exceptional scale range and versatility, Sonu Nigam has sung some of the most high-pitched, difficult songs of his time owing to his strong command over Classical Music, which is evident in his song choices.
Additionally, Sonu Nigam's claim to fame came at a time when there were less technical advancements in digital music studios. Needless to say, Sonu has had a tougher journey that adds to his credibility. And he came out victorious.
On the other hand, Arijit Singh is a brilliant singer, to begin with. His charm, adorable smile, humble attitude, husky voice and exceptional renditions have made him some kind of a "Musical Heartthrob" of the nation.
Also Read | Who Is The Best Singer, Arijit Singh Vs Neha Kakkar?
In his career, Arijit Singh has sung some amazing songs earning him huge popularity. He has his trademark husky texture with which he has rendered both ghazals like Phir Le Aaya Dil from Barfi and love songs like Tum Hi Ho from Aashiqui 2 with elan. Arijit is undoubtedly one of the best we have today.
But… Arijit still has a long way to go and is far less experienced than Sonu. And hence, the comparison between the two is actually unfair.
According to you, who is the best singer, Arijit Singh or Sonu Nigam? Do let us know in the comment section below.