Who is the best singer, Arijit Singh vs Atif Aslam? 
Who would you call the best singer in Bollywood, Arijit Singh or Atif Aslam?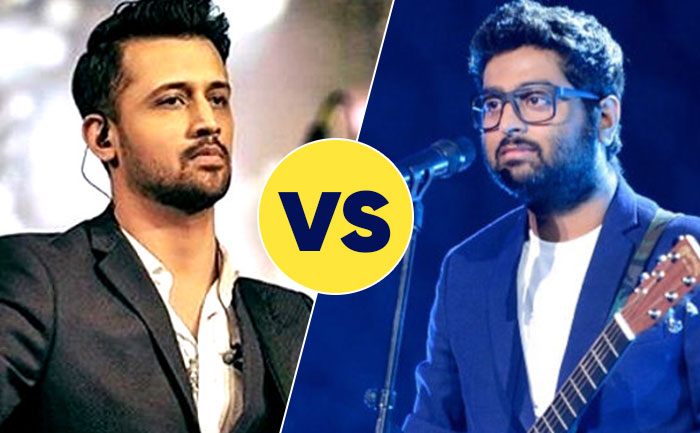 Who is the best singer, Arijit Singh vs Atif Aslam? When it comes to India vs Pakistan, the excitement is always hight. So not only cricket matches have face-offs but the thrill is the same even when it comes to music as well.
Also Read | Who Is The Best Singer, Arijit Singh Vs Neha Kakkar?
There has been an everlasting debate on whether Arijit Singh or Atif Aslam is the best singer? Well, we are not here to begin a war but healthy competition is always welcomed.
Also Read | Neha Kakkar Pays Tribute To Her Favorite Singer Arijit Singh
We are comparing singers of two different periods. Atif Aslam has been in the music industry since last 15-years. Before making his debut in Bollywood, Atif collaborated with the Jal, a very popular band in Pakistan.
On the other hand, it was not until 2011 that Arijit Singh debuted into Bollywood's mainstream music and still remained largely ignored in those initial years. We all know how Ashiqui 2 changed everything for Arijit henceforth. The only reason I am stating this "brief history" is to imply that in terms of popularity and career growth Arijit is waxing while Atif is waning, and it is all because of the time period. So, Arijit is riding the wave now.
Also Read | Everything You Should Know About Arijit Singh's NGO 'Let There Be Light'
Coming to the question- who possesses a greater singing prowess, it is usually very difficult to judge between Arijit Singh and Atif Aslam.
One needs to follow a lot of playbacks as well as live performance recordings of Arijit and Atif. Things become more difficult if the singers have different styles and genres. Fortunately for us, both Arijit and Atif share a more or less similar style of singing and there are certain kinds of songs which were sung by both.
However, in recent years, Atif has shown more controlled singing in songs like "Tere Sang Yaara", "Jeena Jeena", "Dil Diya Gallan", "Pachtaoge" and "Bekhayali" etc.
According to you, who is the best singer, Arijit Singh or Atif Aslam? Do let us know in the comment section below.