Sonu Sood Gifts Tractor to AP Farmer After Video Of Girls Pulling Plough Goes Viral
Sonu Sood Gifts Tractor to Andhra Pradesh Farmer, , Chandrababu Naidu Promises Help To His Daughters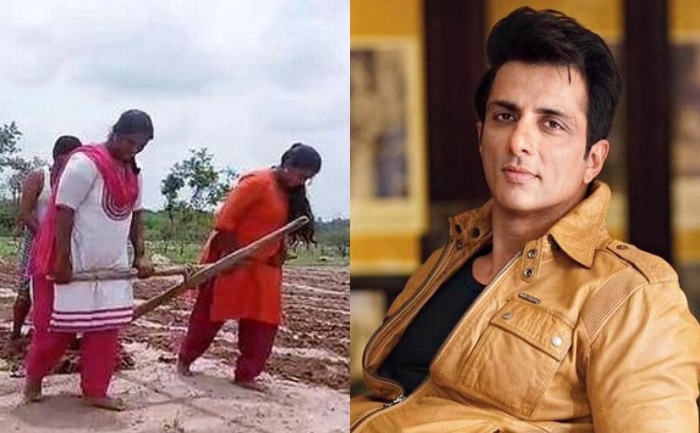 Sonu Sood has been hitting headlines ever since he started helping stranded migrant workers reach home. The reel life villain has turned real-life hero once again. He has gifted a tractor to an Andhra Pradesh farmer to till his land. The actor came up with the gift after watching a viral video of the farmer ploughing the land with his two daughters.
Tomato farmer Nageswara Rao hails from Madanapalle in Chittoor district. He was seen carrying a yoke on his shoulder and ploughing the land with the help of his daughters. Moved by their Sonu Sood promised them a pair of ox but later said the family deserved a tractor.
Sonu Sood tweeted,
This family doesn't deserve a pair of ox 🐂..
They deserve a Tractor.
So sending you one.
By evening a tractor will be ploughing your fields 🙏
Stay blessed ❣️🇮🇳 @Karan_Gilhotra #sonalikatractors https://t.co/oWAbJIB1jD

— sonu sood (@SonuSood) July 26, 2020
Telugu Desam Party president N Chandrababu Naidu, who belongs to Chittoor district, hailed the actor's gesture. He also promised to take care of the farmers daughters. Sonu Sood responded with a thanks to Chandrababu Naidu.
Thank you so much sir for all the encouraging words. Your kindness will inspire everyone to come forward and help the needy. Under your guidance millions will find a way to achieve their dreams. Keep inspiring sir. I look forward meeting you soon. 🙏🇮🇳 https://t.co/XruwFx1vy2

— sonu sood (@SonuSood) July 26, 2020
Rao used to run a tea stall before Covid-19 left him out of business. Like many others, he returned to his village and was forced to take up agriculture for his livelihood.
Also Read: Sonu Sood organizes first charter flight to evacuate stranded Indian students from Kyrgyzstan