Daily Horoscope 27th July 2020: Check Astrological Prediction For All Zodiac Signs
Check out today's Horoscope for all the zodiac signs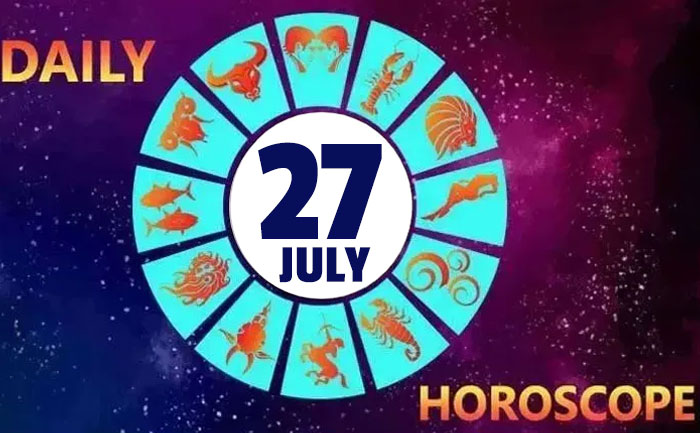 Horoscope Today, July 27th, 2020: IF TODAY IS YOUR  BIRTHDAY: Your radical number is 9.  As a Leo born on July 27th, you have an eccentric and practical nature. You are a Leo that is unselfish, persuasive, and open-minded. Being a people person, you are highly outgoing and often find that you can't help but take control of situations. The lucky color for those born on the 27th of July is represented by the color light sea green. The luckiest numbers for those born on the 27th of July are – 56, 77, 76, 4, and 40.
In this article, we have brought you today's astrological predictions for all the sun signs like Gemini, Scorpio, Leo, Taurus, Cancer, and others. Check out the astrological prediction for all zodiac signs.
 HoroscopeToday, July 27, 2020: Check today's astrological prediction from all sun signs
Daily Aries Horoscope:
Speed will be an issue for you to contend with today. Some people will be going too slowly for you, some people will be going too quickly, and some people won't be going at all! Instead of trying to rally the troops, slow people down or get them motivated, just focus on your own stuff. You're not around to be other people's cheerleader. They'll catch up when they catch up—if they catch up. Other people are not your responsibility, so don't take that on. Wear bright orange to keep negative cosmic energies at bay.
Daily Taurus Horoscope:
You are running the risk of paying more attention to your enemies than to your friends—are you letting jealousy or anger dictate your priorities? This is a mistake. Today, ditch your enemies and devote your free time to getting closer to your friends. And try not to be too possessive of these people's time. Any type of get together needs to be humble and quiet, with no pressure. You can conserve your money to retain your friendships at the same time! The color Blue is your lucky color for today.
Daily GEMINI Horoscope:
If someone you care about has been being willful in their attitude toward you, today is the day to help them be a little more reasonable and see things your way. But first, you have to let go of the past and give this person one more chance. Put yourself in their place, listen to what they say and give them the benefit of the doubt. Your forgiveness and acceptance will grab their attention long enough for you to set them straight. Wear the color Turquoise to attract good luck and positive energy.
 Daily CANCER Horoscope:
There's a person in your life who acts as a magnet for emotional strength and trouble. You know who they are, but what you don't know is that they could cause you some damage today if you're not on your toes. They have a likelihood to make things all about them all the time, and this self-centered focus could cause them to leave them in the lurch right when you need them most. Don't have high expectations for them, but don't judge them either. Just steer clear for today. Wear crimson red to attract good luck.
Daily LEO Horoscope:
If you start sensing some foul play going on around you today, you are right. Your keen observation skills are convincing you that what you're seeing isn't quite on the up and up, so be very careful who you deal with today. Trust only the people who have proven themselves to be trustworthy already. Everyone else might have some hidden agendas. The idea that you have to watch for plotters might seem a bit paranoid, but it's wiser to be safe rather than sorry. Your lucky color today is light blue.
Daily VIRGO Horoscope:
From time to time, you have to search deep into your own heart in order to see the truth about what is going on all around you. If you feel you are moving into a self-examining, inward-focused time, then just go with it. The universe is reminding you that you are the most important thing in your life. After all, if you can't take care of yourself, how can you take care of the people you love? It's not selfish. It's smart. The answers all lie within you. Violet is the lucky color for you today.
Daily LIBRA Horoscope:
You will have such high energy today that having such a short list of daily tasks will feel almost like a disappointment. But have no fear—there are always other things for you to work on! For example, if you take time to tune into your mixed up emotions, you will find that your energy can do a lot of good in helping you untangle some nasty knots that have been preventing you from communicating clearly. A big breakthrough is coming your way soon.
Daily SCORPIO Horoscope:
Today, you are absolutely radiating power! You can make major changes in your life—if you want to. It's a wonderful time to mix things up a little bit and try a different way of doing your normal routine. If you open your mind to untraditional ideas and methods, this could be a very experimental time in your life. Sure, trying new ways of thinking and acting won't always create the most positive results, but it will at least be very illuminating—and fun. Wearing a shade of Green will help attract a lot of positive energy today.
Daily SAGITTARIUS Horoscope:
Today, your active subconscious will set your agenda and tell you what you need to deal with first. Whatever insight you've been taking from your dreams will also serve you well today. Follow your gut and do what you think you need too. Certain images are recurring in your life, and the same issues are popping up again—it's time to deal with these things once and for all. Getting to the heart of the matter as quickly as you can today save you a lot of headaches later. You must avoid wearing the color Blue today.
Daily CAPRICORN Horoscope:
Your influence over your social circle has been growing for a while, and today it is nearing its zenith of power! Make sure that you are responsible for it—and apply the Golden Rule. Treating others as you would like them to treat you is a surefire way of earning respect and solidifying your friendship. This is not the time to let jealousy or revenge affect your decision-making process. Aim for harmony and balance between people. No one is perfect, but everyone is worthy.  Avoid wearing the color Silver for today.
Daily AQUARIUS Horoscope:
There is more to life than your career, so if it's not going the way you would like it to be going right now, just don't worry about it. Shift your focus to the areas of your life that are going well—there are quite a few to choose from. If your career happens to be going exactly the way you want it to be going, then good for you! Take time and enjoy it. After all, you can afford to put things on autopilot, take your foot off of the gas pedal, and take a long lunch or leave a little early. Try to avoid wearing the color Red to avoid any kind of negativity
Daily PISCES Horoscope:
Grab your whistle, zinc oxide, and floatation device before you head out the door this morning because you'll end up being a very valuable lifeguard for the people in your life. There will be some sharks swimming the waters today, and an unsuspecting friend may need your words of warning to keep from getting dragged under. Your critical eyes have perfect 20/20 vision today, so look around for other trouble spots. Protecting the people you love is part of who you are. Use the color Purple to attract good luck.
Also Read: Leo Love Horoscope 2020: Personality, Traits, Compatibility & Celebs Born Under This