Spotify Rolls Out Instagram-like Stories Allowing Artists Share Insights With Fans
Spotify introduces Instagram-like Stories that let artists share insights with fans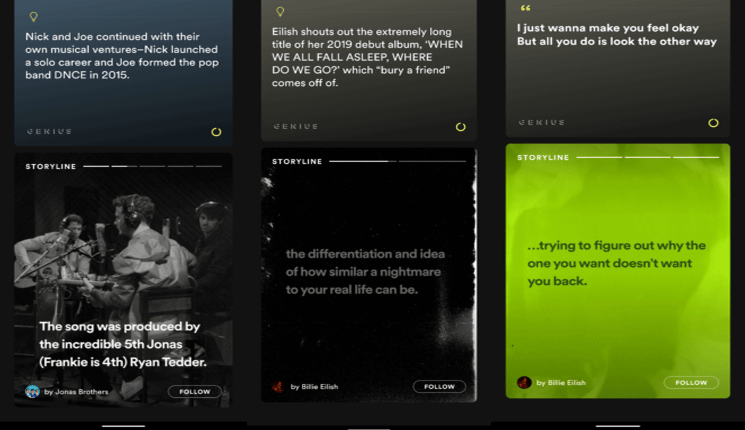 After Snapchat, Facebook, Instagram and Twitter, now its turn to popular music streaming platform Spotify to introduce Instagram story feature- Storyline. The Story feature was originated by Snapchat, but other popular social media platforms such as Facebook and Instagram have overtaken the popularity of the originator.
The Spotify's storyline feature looks similar to Instagram story feature but the additional feature Spotify has provided is an option in which artiste can communicate with their listeners (fans) via a series of cards that can be cycled through.
The Storyline feature shows up below the Now Playing Screen – once you've swiped up on it – it will provide further insight from the artists themselves. It's found either above or below the existing 'Behind the Lyrics' section, which shows lyrics and information pulled from Spotify's partner, Genius.
Also Read: Spotify Launches Lite Beta App For Low-End, Old Android Smartphones In India
It is almost similar to Instagram and Snapchat stories features, in which artiste will be allowed to pick one or multiple images, type text and highlights the desired parts. You will have to tap on the right and left the side of the card to move to the next or previous part of the story respectively.
According to Android Police, the card is live in Spotify v8.5.5.853, though they may have rolled out in earlier versions too. They were able to find them under Jonas Brothers' Sucker and several songs by Billie Eilish (bad guy, bury a friend, when the party's over, wish you were gay).
As per the report, Spotify cards feature is currently being used by several artists, which is a lot less than the songs that support Behind the Lyrics. The company has not made it clear that they will terminate its Genius partnership and replace those cards with its own or not.
There's no guarantee that the Spotify's Storyline feature will see a permanent public rollout, but if the tests prove successful, we will likely see more artists using the service to communicate directly with their fans.