Stardom Wrestler Hana Kimura Dead At 22
She was a victim of severe cyber bullying and was deeply affected by it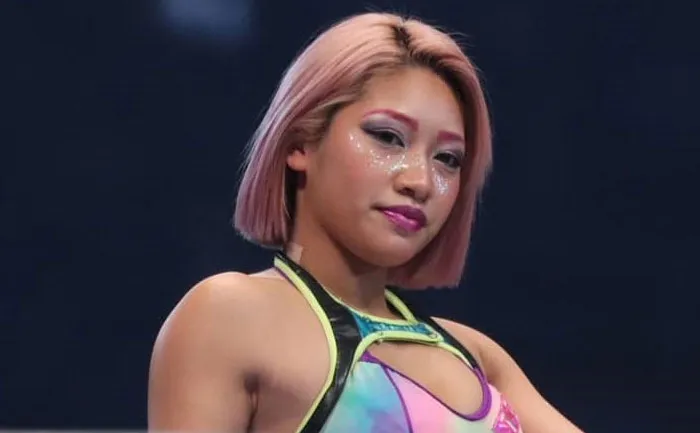 After the tragic news of Shad Gaspard, the wrestling community suffered another loss in the form of Stardom wrestler Hana Kimura. The 22-year-old had been on the receiving end of hundreds of mean comments from fans and critics on a daily basis.
Hana Kimura had earlier shared a series of tweets that implied that she was self-harming, WrestleZone reported. She also posted an apparent suicide note that said:
"Nearly 100 frank opinions every day. I couldn't deny that I was hurt. I'm dead. Thank you for giving me a mother. It was a life I wanted to be loved. Thank you to everyone who supported me. I love it. I'm weak, I'm sorry. I don't want to be a human anymore. It was a life I wanted to be loved. Thank you everyone, I love you. Bye."
Stardom confirmed Kimura's death with the following statement:
"Stardom fans, we are very sorry to report that our Hana Kimura has passed away. Please be respectful and allow some time for things to process, and keep your thoughts and prayers with her family and friends. We appreciate your support during this difficult time."
Hana Kimura was the winner of Stardom's 2019 Fighting Spirit Award and ranked just outside the Top 50 in 2018's PWI Female 100. The second generation wrestler was the daughter of Kyoko Kimura. She's a two-time Artist of Stardom Champion and a one-time Goddess of Stardom Champion. Kimura joined the Netflix Japan reality show "Terrace House" late last year.
Condolences from the wrestling community poured in following the news.
AEW and the wrestling community mourn the passing of Hana Kimura. May she Rest In Peace, and our thoughts are with her family, her friends, and her fans. pic.twitter.com/gouuu3xG5y

— All Elite Wrestling (@AEWrestling) May 23, 2020
There are so many nights I would go to roppongi & I was joined by one of the most beautiful vibrant women I've ever met.
I would always smile around her & her laugh would just have effect on everyone.

I can't express how heartbroken I am for the Stardom Family.
RIP Hana Kimura

— ᵂⁱˡˡ ᴼˢᵖʳᵉᵃʸ • ウィル・オスプレイ (@WillOspreay) May 23, 2020
Just woke up to this awful news. There are no words to appropriately describe just how tragic the passing of Hana Kimura is.

She was an extremely talented performer and by all accounts, a great person and a kind soul.

My thoughts go out to her friends and family.

— Kevin (@FightOwensFight) May 23, 2020
The passing of #HanaKimura is very tragic. A 22 year old prodigy out of Stardom.

We not only as an industry but a civilization need to be better. This platform or any like it that allows you to communicate should be used to help not harm.

We all deserve kindness.

— David Lagana (@Lagana) May 23, 2020