Hollywood Stars Pray For Naya Rivera As The Glee Star Is Presumed To Have Drowned
Naya Rivera played the high school cheerleader, Santana Lopez, in Glee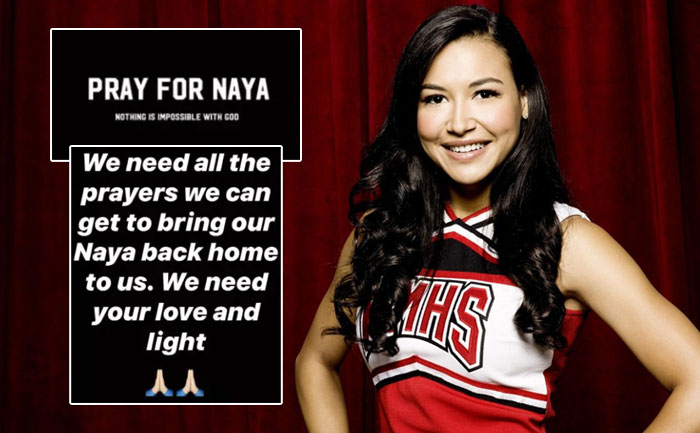 Glee star Naya Rivera went missing yesterday and is presumed to have drowned while boating on a lake near Los Angeles. The authorities have been searching for the actress for almost 24 hours. She is presumed to have drowned.
"We are presuming that an accident happened and that she drowned in the lake," Ventura Country Sheriff's spokesman Chris Dyer said on Thursday.
Naya Rivera played the high school cheerleader, Santana Lopez, in the high school musical comedy Glee till 2015. She
went missing on Wednesday after renting a boat on Lake Piru with her four-year-old son Josey. Authorities have stated that they found her son alone and sleeping in a drifting boat on Wednesday. He has told the authorities that they had both gone swimming but his mother never returned. Lake Piru is a recreational reservoir about 50 miles north of downtown Los Angeles.
"If the body is entangled in something beneath the water it may never come back up," Sgt. Kevin Donoghue told reporters. "This is a terrible tragedy for all of them," he added.
Meanwhile, friends and former co-stars of the Glee actor have offered prayers for the missing actress and her family. Skyscraper singer Demi Lovato wrote, "Pray For Naya. Nothing Is Impossible With God."
https://www.instagram.com/stories/ddlovato/2349707823589786700/
Her Glee co-stars Heather Morris, Harry Shum Jr, and Chord Overstreet also offered their prayers through social media. Heather Morris, who played Naya's love interest on Glee, wrote, "We need all the prayers we can get to bring our Naya back home to us. We need your love and light."
Meanwhile, Harry Shum Jr tweeted a simple, "Praying". Chord Overstreet who played the role of Sam on Glee tweeted, "love and hug on the people you can, while you can. I love you. Everyone please send out your prayers."
Praying.

— Harry Shum Jr (@HarryShumJr) July 9, 2020
love and hug on the people you can, while you can. I love you. Everyone please send out your prayers.

— Chord Overstreet (@chordoverstreet) July 9, 2020
Vanessa Lengies, who played Sugar Motta on the show, also joined in the prayers. She wrote, "I'm with you. I love you."