Sunaina Is In Love With A Muslim Man, Kangana Ranaut's Sister Rangoli Chandel on Hrithik Roshan's Sister
Hrithik Roshan wants his sister Sunaina to put behind the bars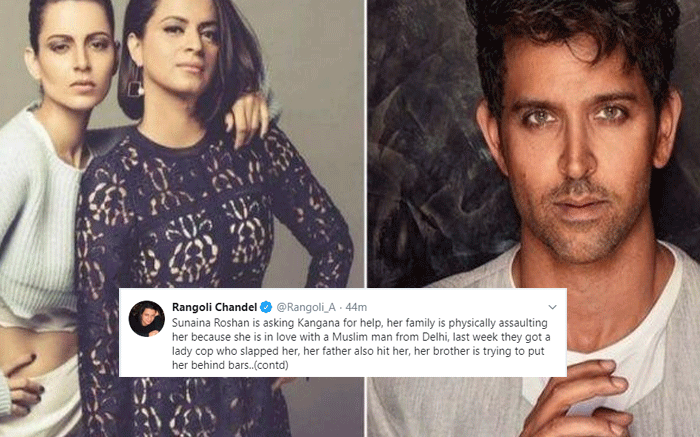 Minutes after Hrithik Roshan's sister, Sunaina — who has extended her support to Kangana Ranaut in an ugly fight between both the Bollywood actors — Kangana Ranaut's sister Rangoli Chandel has alleged that Roshan family is physically assaulting Sunaina becuase she is in love with a Muslim man belonging to Delhi.
It is to be noted that Rangoli Chandel had earlier taken to Twitter and informed people that Sunaina has been continuously in touch with her and Kangana Ranaut. Rangoli wrote on Twitter: "Everyone isn't nice to their siblings, Hrithik Roshan's sister Sunaina Roshan has been calling and messaging Kangana and me only to apologise that she didn't stand up for her when Hrithik framed her as they were friends. When Kangana &Hrithik were close, when Hrithik found out he & his PR tried to prove her a bipolar on a nervous breakdown, poor lady was so hassled with all the public shaming and blaming."
Taking to the microblogging site, Rangoli Chandel has made numerous allegations on Hrithik Roshan's family. She claimed that Sunaina is in love with a Muslim guy and her family is against their relationship. In her post, she also stated that Sunaina was slapped by a lady cop last week and hit by her father as well. Continuing her allegations, she said that her brother also wants to put her behind the bars.
You can check out Rangoli Chanel's tweet below:
Sunaina Roshan is asking Kangana for help, her family is physically assaulting her because she is in love with a Muslim man from Delhi, last week they got a lady cop who slapped her, her father also hit her, her brother is trying to put her behind bars..(contd)

— Rangoli Chandel (@Rangoli_A) June 19, 2019
(Contd)…. I fear her dangerous family might harm her, we want to make this public because Sunaina calling Kangana and crying all the time, Kangana doesn't know how to help her…(contd)

— Rangoli Chandel (@Rangoli_A) June 19, 2019
(Contd)…. so now she has blocked her number but we fear for her safety, everyone has a right to love whoever they want, hopefully this will scare Roshans and they back off ?

— Rangoli Chandel (@Rangoli_A) June 19, 2019
Speaking about Hrithik Roshan's sister, Sunaina, Kangana Ranaut had earlier told Mumbai Mirror, "It is true that Sunaina and I were always good friends and so was her family. Now they claim differently. Yes, she has been in touch with me, but I don't want to take advantage of her family dispute. Sunaina is still a friend but I will not hit somebody when they are down."