Supreme Court refuses to interfere to deport seven Rohingya to Myanmar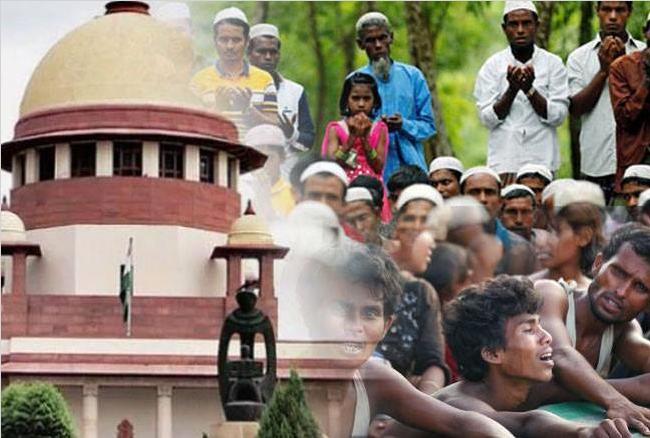 The Supreme Court on Thursday refused to interfere in Center's decision, deporting seven Rohingya refugees to Myanmar. These Rohingya refugees had been staying in Assam illegally.
The bench headed by newly appointed Chief Justice of India (CJI) Ranjan Gogoi announced that the seven Rohingyas were found to be illegal immigrants and Myanmar has accepted them as its citizens. The court said, "We are not inclined to interfere in the decision taken."
India on Wednesday decided to deport the Rohingyas to Myanmar on Thursday. But, the Court refused to hear a plea stopping the deportation of these seven Rohingyas. "They will be killed if that [deportation] happens," Prashant Bhushan quoted by Live Law as saying.
The Court reportedly told Myanmar that it has issued a certificate of identity to the Rohingyas along with one month visa to facilitate deportation. The Myanmar Embassy has agreed to take them back.
The Centre told apex court that these seven Rohingyas had come to India illegally in the year 2012. They were detained and they were convicted under the Foreigners Act. Later,  they were sent to jail and they have served their term.
"Seven Myanmarese nationals lodged in Silchar will be deported on October 4. The travel permits have come. The deportation will take place via Moreh (a border town) in Manipur," news agency ANI quoted a senior official of the home and political department of the state.
They are currently lodged in Imphal, Manipur and will be taken to Moreh border where they'll be handed over to Myanmar authority.
Supreme Court refuses to interfere in Centre's decision to deport 7 Rohingya refugees to Myanmar.A plea was filed in SC yesterday for urgent hearing seeking restraint on Centre from deporting the 7 Rohingyas lodged in the Silchar Detention centre in Assam to Myanmar pic.twitter.com/UPCX142NSo

— ANI (@ANI) October 4, 2018
The expert body quoted as saying, "A UN human rights expert has expressed alarm at the Indian Government's plan to deport seven Rohingya men to Myanmar, saying their forcible return could constitute refoulement which violates international law."
Also read: Kerala: 5-member Rohingya family held, taken into custody for interrogation