In Pictures: Sushant and Rhea enjoying their vacation in Paris
Have a look at the photos Sushant Singh Rajput and Rhea Chakraborty shared separately on their trip to Paris.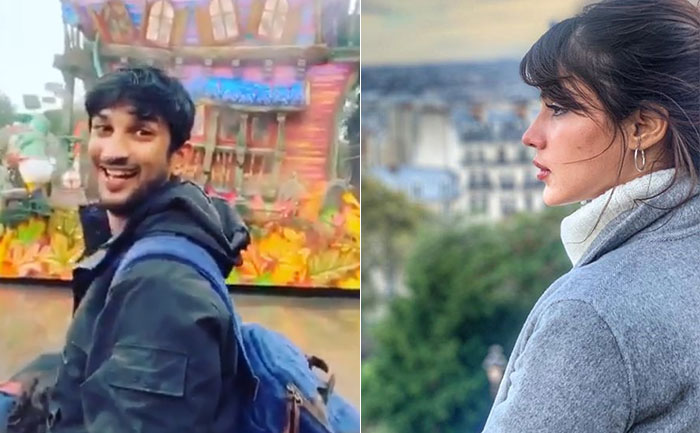 Sushant Singh Rajput has been trending for a while for his personal life. It is believed by many that the Raabta actor flew to Paris along with co-actor Rhea Chakraborty and that he might be dating her. Albeit the actors have never spoken about their relationship status in public, both might have secretly flown off for a romantic holiday to Paris.
Sushant posted a video on his Instagram handle where he can be seen entering Disneyland Paris and witnessing the events unfolding before him as he joyfully enjoys the moment. The actor captioned on Instagram which read, "Mickey in Disneyland! #livingmydreams #lovingmydreams
Albeit in the video or anywhere Rhea cannot be seen beside him, she too is in Paris. Even she shared her pictures on her Instagram account. Though we cannot see Sushant Singh Rajput there in her pictures gallery from the trip on her Instagram, there could be a slight probability that both are enjoying their time together. Here is Rhea posing in front of the grand Eiffel Tower happily. She wrote in her caption, "If up was down, North was south, If the tress were blue, And the water green, If you were me, And I was you, Would you still love me? The way I do …… #love #rheality #paris #imapoetandnowyouknowit."
Lately, Sushant and Rhea had also shared their pictures separately from Ladakh with the same location and with the same kid that had sparked a strong possibility of them dating. We can only wait and see if the actors make things official between them to the public. On the professional front, Sushant Singh will be seen next with Jacqueline Fernandez in Netflix film Drive.
Also Read: WHAT! Sushant Singh Rajput Keen To Marry Rumoured Girlfriend Rhea Chakraborty?