Happy Birthday Rekha: 15 Rare and Unknown Facts About Bollywood's Ageless Beauty
On her 65th birthday, we have brought you 15 rare things which you did not know about Bollywood actress Rekha.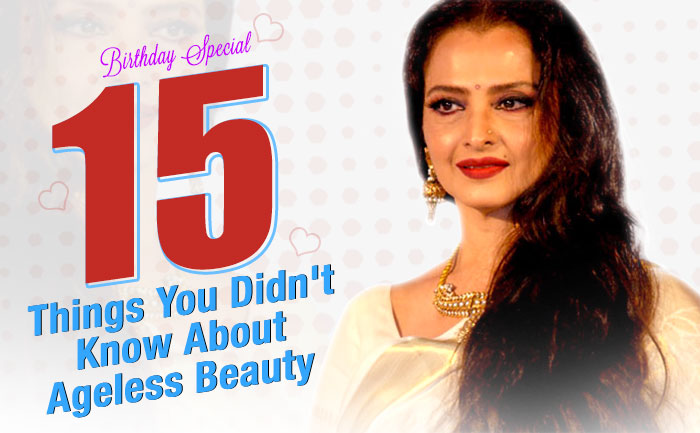 Bollywood actress Rekha, who is one of the most beautiful actresses of Hindi film industry, turned a year older today. The diva debuted in Bollywood in 1966 as a child actress in the Telugu film titled Rangula Ratnam and went on to feature in more than 180 movies in her career spanning almost five decades.
The Gorgeous Rekha is now an established name in Bollywood but it took more than 10-years to gain nationwide recognition as an actress. Throughout her 50-year career, Rekha played plenty of roles and for that, she won three Filmfare Awards. She bagged her first Filmfare Award for Best Supporting Actress in Khubsoorat (1980) and the followed by Khoon Bhari Maang (1988) and Khiladiyon Ka Khiladi (1996), respectively.
Rekha's mindblowing role in Umrao Jaan (1981) earned her the National Film Award for Best Actress. Like every Bollywood actors, Rekha's career has also gone through many ups and downs. Unlike many Hindi film actors, Rekha did not lose hope and reinvented herself on scores of time and credited for her ability to sustain her status.
The Bollywood diva has always managed to make headlines for her controversial characters, stunning looks and classing dance steps. Moreover, Rekha is considered one of the most respected celebrities of Indian Cinema. The evergreen actress still can give any young celebrities a run for their remuneration.
The ageless beauty has proved on many occasions that age is merely a number. Rekha does not leave any stone unturned to make the stylish appearance at award functions and several Bollywood actresses look up to her inspiring fashion.
On the occasion of Rekha's 65th birthday, we have brought you some of the most unknown and rare facts about her personal and professional life.
Rekha Unknown Facts: Here are 15 things or facts you did not know about ageless beauty
1. Did you know that Rekha is the daughter of South Indian actor Gemini Gamesan and Telugu actress Pushavalli?
2. The gorgeous actress had a very tough childhood as her father did not acknowledge his paternity during her childhood days.
3. Rekha's father never married her mother and she remains an illegitimate child.
4. Did you know Rekha has one sister, five half-sisters and one-half brother, from the same father? The most important thing is despite knowing that they all have different mothers, Rekha shares quite a close bond with them.
5. Rekha always wanted to explore the entire world and that is the reason why she chose to become an air hostess but unfortunately, she was removed owing to her young age.
6. The Bollywood diva is obsessed with make-up and during her childhood, she used to ask her air hostess friends to bring make-up from abroad.
7. Besides Airhostess, Rekha also wanted to be a nun after studying in a convent school with Irish nuns.
8. Did you know, owing to her bad financial conditions, Rekha was reportedly forced to work in B and C Grade Telugu movies?
9. There are millions of people think that Rekha never got married but she tied the knot with industrialist Mukesh Aggarwal, who committed a suicide a year after their marriage.
8. While lot of people think that Rekha never got married but the truth is that her industrialist husband Mukesh Aggarwal committed suicide a year after their marriage.
9. The popular Indian actress has been linked with multiple co-stars including Amitabh Bachchan, Raj Babbar, Vinod Mehra, Navin Nischol, Jeetendra, Yash Kohli, Kiran Kumar, Shatrughan Sinha, Sajid Khan and Akshay Kumar during her acting career.
10. There were reports doing the rounds that Rekha got secretly married to her co-star Vinod Mehra. When asked about the same, Rekha vividly dismissed the rumours of her marriage with Mehra in a chat show with Simi Garewal.
11. Apart from Amitabh Bachchan, Rakha was romantically linked up with Sanjay Dutt, who is 5-year younger than her. As per the rumours, Rekha once had said that she became friends with Sanjay Dutt only to make Mr Bachchan jealous. Rare Photos of Ageless beauty Rekha
12. Rekha is quite good when it comes to mimicry. She has lent her voice for leading Bollywood actresses Neetu Singh in Yaarana and Smita Patil in Waaris.
13. Rekha, the timeless beauty and sex symbol in Bollywood, does not have a stylist. Apparently, she designs her looks and shoots herself.
14. Unlike most Bollywood stars, Rekha is known to be highly punctual and she values time more than anything else.
15. Nowadays, every Hindi film actresses hit the gym but Rekha is the first-ever actress in Hindi film industry who got herself enrolled in a gym at Hotel Ramee International and she started with swimming and basic exercises.
These are unknown but interesting facts about the evergreen actress Rekha. Apart from the aforementioned rare facts, in 2010, she was honoured with the Padma Shri by the Government of India.
The Veteran actor Rekha was also nominated as a Rajya Sabha member in the year 2012 and retired in 2018. She has earned Rs 99.59 lakh, or nearly a crore, as an MP in the last six years.
Also Read: 8 Explosive Revelations In Rekha's Biography