Former Foreign Minister Sushma Swaraj to be cremated with full State Honours
Sushma Swaraj Funeral Updates: State Funeral For Sushma Swaraj Today, President, and Top Leaders Pay Tribute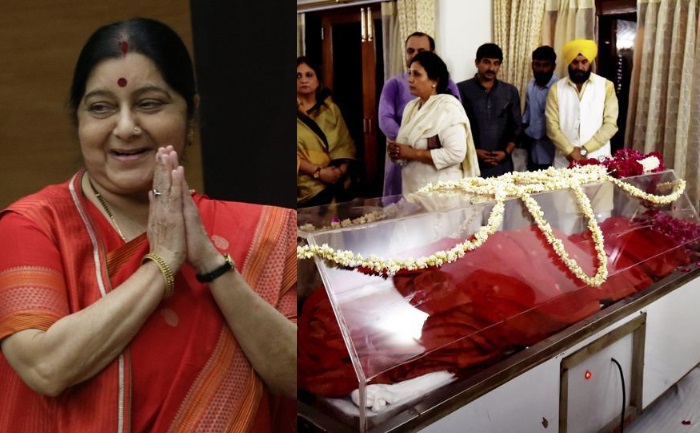 Senior BJP leader and former External Affairs Minister Sushma Swaraj passed away at All India Institutes of Medical Sciences on Tuesday night. The lady known for her affable nature had complained of heartache, she was brought to AIIMS at around 10:15 PM and was admitted to the emergency ward. She passed away due to a fatal heart attack. A team of doctors attempted cardiopulmonary resuscitation (CPR) to revive her, but she couldn't make it.
The 67-year-old had not been keeping well lately. This is the reason that she had not contested the Lok Sabha election earlier this year and opted out of PM Modi's new government. She had a kidney transplant in 2016.
The former Union minister Sushma Swaraj's body was taken to her home, Dhawan Deep Building, in Connaught Place, New Delhi. Her body will be taken to the BJP headquarters on Deen Dayal Upadhyaya Marg and will be kept there for three hours for party workers and leaders to pay tributes. Thereafter, her last rites will be performed at the Lodhi Road Electric Crematorium at 3PM today.
Condoling the death of veteran BJP leader and former external affairs minister, Delhi government has declared a two-day state mourning as a mark of respect to Sushma Swaraj.
Prime Minister Narendra Modi took to Twitter to offer his condolences as he wrote, "Sushma Ji's demise is a personal loss. She will be remembered fondly for everything that she's done for India. My thoughts are with her family, supporters, and admirers in this very unfortunate hour. Om Shanti."
President Ram Nath Kovind expressed a sense of shock over her untimely demise and tweeted: "Extremely shocked to hear o the passing of Smt Sushma Swaraj." Soon after, B-town celebs took to social media to mourn the death of the BJP stalwart.
Ms Swaraj was one of the most senior woman leaders of the BJP. Swaraj, who was India's first full-time woman foreign minister, extended a helping hand to many Indians in distress abroad. Even banal or joking requests drew a response from Sushma Swaraj.
Hours before her death, Ms Swaraj had tweeted congratulating Prime Minister Narendra Modi over the passage of the Jammu and Kashmir Reorganisation bill in parliament. "She was happy about Article 370's abrogation, I read her tweet when I got back home," Union minister Ravi Shankar Prasad said.
Top ministers such as Rajnath Singh, Nirmala Sitharaman, Ravi Shankar Prasad, Smriti Irani, Harsh Vardhan, Prakash Javadekar, Ramesh Pokhriyal were among those who visited the hospital last night.
Also Read: BJP Veteran & Ex-Foreign Minister Sushma Swaraj Passes Away: Report