Sushma Swaraj's plane goes incommunicado en route Malaysia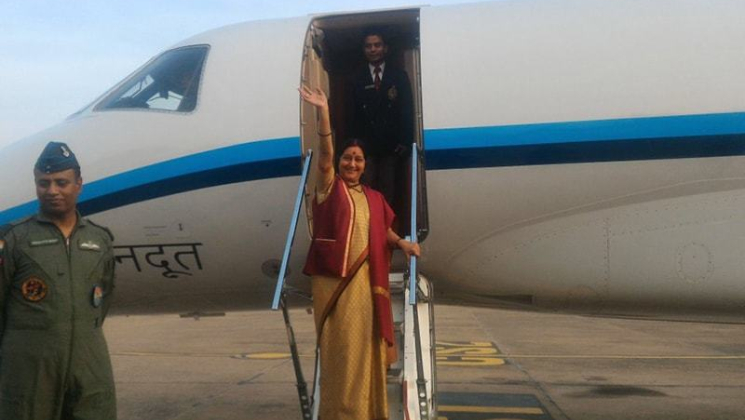 In a report by The Times of India, a major scare on Saturday evening, "Meghdoot", Indian Air Force plane that carries VVIP passengers only lost contact with both Mauritian and Indian Airport Towers and could not be contacted for a total of 14 minutes in the Mauritian airspace, according to the Airports Authority of India (AAI).
"Indian Air Force Flight IFC31 carrying Sushma Swaraj, Minister of External Affairs, departed from Trivandrum at 1408 IST for Mauritius. Aircraft changed over from Indian airspace to Male ATC, which then established contact with the aircraft at 1644 IST. However, IFC 31 could not contact Mauritius ATC after entering Mauritius airspace…Later at 1658 IST, IFC 31 came in contact with Mauritius ATC and landed," AAI said in a press statement.
"Over oceanic airspace, air traffic control (ATC) globally waits for 30 minutes to declare a plane missing if it does not contact it on entering its airspace of flight information region. In this case, the Mauritius authorities pressed the alarm button 12 minutes after the flight IFC-31 entered its airspace and contact could not be established with the plane," said a senior official of Airports Authority India (AAI), the parent organisation for ATC here.
The External Affairs Ministry denied having any knowledge about this incident.
Mauritius then declared "INCERFA" alarm, which in aviation dialect means an uncertainty phase wherein it is not known if the aircraft and its occupants are safe. They contacted the Chennai air traffic control, which was the last flight information region (FIR, a specified region of airspace in which a flight information service is provided and it is the largest regular division of airspace globally) to be in touch with the Embraer ERJ135 named "Meghdoot", Swaraj's plane.
The plane had taken off from Trivandrum at 4 pm. "The local ATC passed it on to Chennai FIR which later passed it on to Mauritius FIR. (A plane passes through several FIRs and remains in touch with the ATC of that FIR). Once the alarm was sounded, everyone gets vigilant for the plane for which it has been sounded. The Indian ATC may also have tried to contact the plane on VHF," said the AAI official.
The pilots of the Embraer, for which the alarm was sounded at 4.44 pm, contacted Mauritius ATC at 4.58 pm, after which everyone heaved a sigh of relief. The Embraer does not have a long range and Sushma, who is flying it from India to South Africa to attend a BRICS and India-Brazil-South Africa (IBSA) ministerial meetings, had to take three refuelling or technical stops — Delhi-Trivandrum-Mauritius-South Africa.
A senior ATC official said communication over oceanic area is often problematic due to erratic VHF communication. "Sometimes pilots are unable or forget to contact the Mauritius area. That oceanic area has no radar coverage and everything depends on VHF/HF communication. Such places where VHF coverage is not good are known as dark zones," said the official.
The 14-minute long uncertainty phase (INCERFA) is first of the three emergency phases under International Civil Aviation Organisation's Chicago Convention. The second is "alert phase" (ALERFA) in which apprehension exists as to the safety of an aircraft and its occupants. The third is "distress phase" (DETRESFA) wherein there is a reasonable certainty that an aircraft and its occupants are threatened by grave and imminent danger and require immediate assistance.
Luckily, the 14-minute-long scare involving Swaraj's VVIP plane ended with the first stage itself.